Growing Up Organic
And Healthy
Every time I grab a "squisher" (that's what we call the Plum pouches in our house) for my little one, mixed emotions run through my head. Don't get me wrong -- I absolutely love these things. I just wish they were around nine years ago when my oldest was eating baby food. Then I pack one in my 9-year-old's lunch box and smile.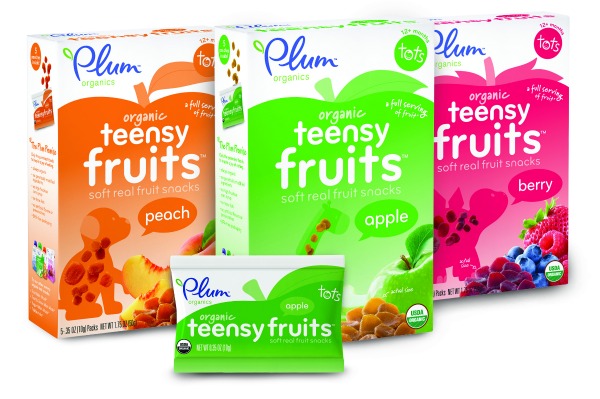 I have quite the age range in our house right now -- my boys are two, four and nine. So while we are past the baby food stage, we are still faced with daily eating challenges. My toddler is growing at a rapid pace and eats everything in sight, my preschooler is a picky eater so I'm lucky if I can get the recommended servings of fruits and vegetables in him on a daily basis and my pre-teen is too busy to sit and eat a well balanced lunch while at school.
Squishers to the rescue! The Plum organics pouches give each of my kids the nutrition they need in a quick and easy way. While I can (and still do) make smoothies, blended juices and sneak vegetables in various meals, sometimes it's just easier to grab a squisher and go. Less mess, perfect portion sizes and they disguise the not so yummy flavors way better than I do… trust me, I've tried them myself.
For babies, twist on a Boon Plum Dispensing Spoon and you have the easiest way to feed your baby healthy, organic baby food.
New for 2012 Plum organics has come out with even more goodies for babies, toddlers and older children, too. My boys already approve!
For baby
Fruit and veggie whole grain pouches
4 simple fruit, veggie and grain combos
3 gluten-free, ancient grain recipes with Aramath, Millet and Quinoa
Certified organic and GMO-free
BPA-free, re-sealable pouch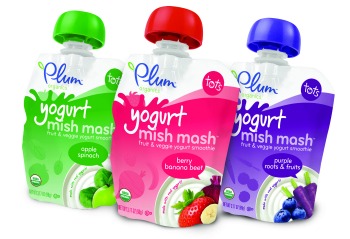 For tots
Yogurt mish mash smoothie pouches
3 creamy yogurt, fruit and veggie combos
20 percent recommended daily value of calcium and Vitamin D
Certified organic and GMO-free
BPA-free pouch for little hands to hold
Teensy fruits: Soft real fruit snacks
3 varieties with a full serving of fruit
Certified organic and GMO-free
No high fructose corn syrup or artificial ingredients
Small portions, sized perfectly for tots
The new Plum organics lines are currently available nationwide in-store and online at Babies R Us/Toys R Us and beginning in March 2012, they will be available nationwide at Target.
More about organic baby food
Beyond baby food
Making organic baby food
Make your own organic baby food