Stage Perfect Toddler Photos
Now that you've made it through your baby's first year, your celebration of this major milestone can be picture perfect with the right insight on staging baby pictures peppered with a few tips on snapping perfect toddler photos. From capturing babies with a smash cake to dressing your youngster in festive frocks, check out these five picture ideas for baby's first birthday.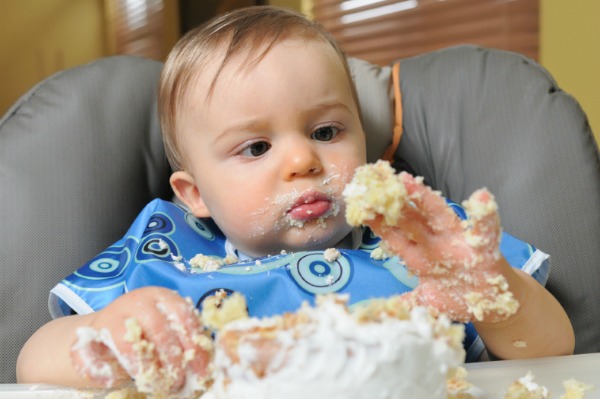 Set up a smash cake
Is there anything more precious than babies covered in cake? With your photographer's permission, bring a small cake or cupcake, also known as a smash cake, to capture the moments before, during and after your toddler digs into her birthday sweet.
Focus on the festivities
There will be no doubt why you're celebrating when you set the scene of your first birthday toddler photos with party decor. Wrapped gifts and plenty of helium balloons are not only cute for background props, but also make for fun pics when babies begin to interact with these festive items.
Bring on the blue or pink
During this brief moment between babyhood and the toddler years, you can celebrate both by selecting a gender-specific background like pink or blue and then dressing your little one solely in the same color. The monotone makes a big impact without stealing the scene from the birthday kiddo.
Pose party-hat perfect
With the abundant selection of specialty first birthday hats available today, deciding which one will adorn your toddler will be the hardest part. Just remember to pick one that features the number one!
Get in the picture
Consider taking a photo with the birthday baby to make your youngster more comfortable. But photographer and digital designer Kami Leonard from Zigglescraps.com reminds you not to neglect yourself in the excitement of your photo shoot. "Make sure you are well-rested and have a full tummy too! A stressed out Mommy will make a stressed out baby." A little camera shy? Staging baby photos that only feature parts of you with your toddler, such as your legs and hands, can make for equally precious moments.
Look tutu cute
Birthday babies sporting fluffy tutus are beyond cute, especially for their one-year baby pictures. Many parents opt to feature their toddler wearing only a tutu and a frilly headband or necklace, but tutus paired with a leotard or ballet shoes are just as appropriate.
You can set the perfect scene with these five first birthday picture ideas, but that doesn't mean your kiddo is guaranteed to cooperate. "Even if you schedule your shoot at a time when your child is usually happiest, there is always the possibility that he will be having an 'off' day," warns Leonard. So, just in case, "bring snacks and a bottle so you can give babies a little something to eat and bring their favorite toy or comfort object to put them at ease." Regardless of how you stage your toddler photos, as long as you focus on keeping your kiddo happy, in the end you'll have baby pictures that are as unique as your growing child.
Take a look at more family picture tips
Guide to shooting baby pictures
10 Tips for taking memorable pictures
Guide to shooting family photos