Check Out These Funky, Durable Diaper Bags From Ju-Ju-Be
If you're looking for an excellent diaper bag that shows your funky side, the Tokidoki prints from Ju-Ju-Be are simply amazing.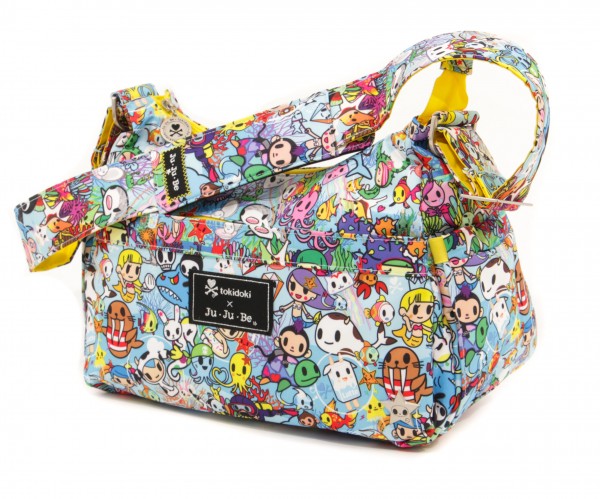 Photo credit: Ju-Ju-Be
Ju-Ju-Be is a name that moms love because they provide amazing, quality diaper bags that can, in many cases, be used as a regular bag, too. The Hobobe style is definitely a purse-like diaper bag, and they sent me one in the Sea Amo print (Ju-Ju-Be, $108) to check out.
I love it so much.
Features
Tons of pockets. I repeat: Tons of pockets. I'm huge on being organized, and I love that you don't have to toss everything inside to potentially become a jumbled mess. There are pockets inside, outside, zippered — for everything and anything. There are even two exterior beverage pockets insulated with Thinsulate by 3M.
Plenty of room. Even though this isn't an enormous diaper bag, there is still plenty of room in the main compartment for all your baby stuff. I could fit several cloth diapers, wipes, extra outfits and toys in there, no problem.
Amazing, adjustable shoulder strap. It features memory foam for prime comfort and it also has a grippy surface on the bottom so it actually stays on your shoulder.
Fancy fabric. I'm not talking about the print (more on that below), but the fabric itself is durable and designed to be easy to clean and inhibit stinky bacteria growth. And it also has a light-colored lining so you can see what's inside. Oh — and it's machine washable (don't forget to air dry).
Sweet prints. I'm partial to the Tokidoki prints because they're super fun and there is so much going on. We had a great time looking at our bag and pointing out everything we saw. If you're not wild about Tokidoki, they have tons of other prints to choose from, from classy prints to those that are fabulous and fun.
Conclusion
I think this diaper bag would make an excellent gift for a mom on your holiday shopping list — or pick up one for yourself. Even those who aren't moms love them. And so will you.
The writer received the Ju-Ju-Be bag so that she could try out the product. All opinions expressed in the article are based on the reviewer's own assessments of the product.
More awesome products
Products for postpartum care
Encourage early foreign language development with Little Pim
Keeping Baby's tootsies toasty during winter