Surprise Birth At Hospital's Front Door Caught On Tape
A Michigan mom-to-be had already been turned away twice at the hospital because her labor wasn't advanced enough. Turns out, they should have kept her the second time.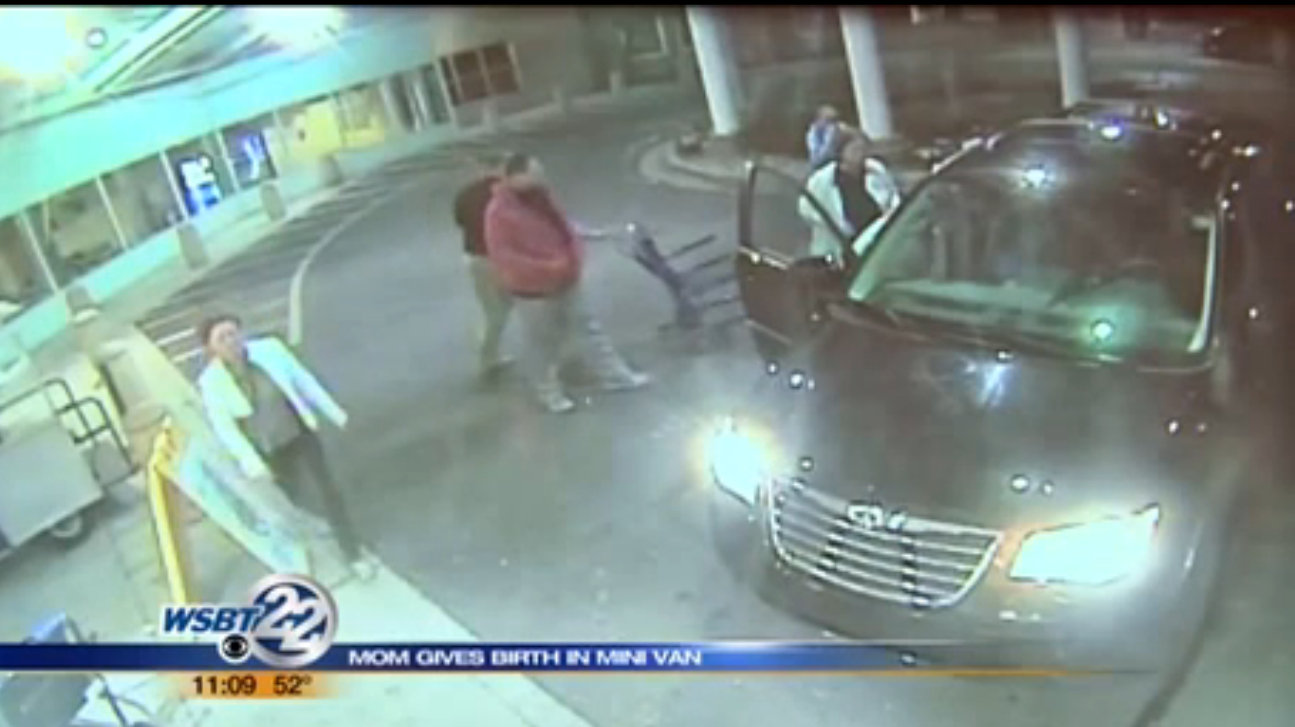 Photo credit: WSBT 22
Heather Garey was expecting her fourth baby and had already been to the hospital twice before being sent home because she was still in early labor — her contractions were too far apart. However, when it was time to go, they realized that maybe she should have stayed the second time because her baby was born before she could even get out of their van.
Parking lot birth
Many moms-to-be plan on a birth photographer being present during labor and delivery, but not many plan on having their childbirth recorded by surveillance video. The Gareys now have a priceless token of their youngest child's rapid birth as Heather didn't even make it out of the family vehicle before her baby was born.
After she was sent home the second time, she decided to hang out and do some chores. She reports that she was folding laundry when contractions really got going, and they left right away and arrived at the hospital 20 minutes later.
On the video, you can see her husband, Dan, run inside to get help. Their older daughter also comes out of the van hoping to help while her younger siblings remain in the back, watching Elf on DVD. Heather knew that time was a factor and she was panicking a little because she wasn't in a good position — and she was still wearing pants. Regardless, when a nurse came outside and reclined the seat she was sitting in, Baby Charlotte came right out. Heather and her baby are both healthy and doing well.
I know it can be difficult to judge when to keep a laboring woman and when to send her home. I will say that when I was in labor with my fourth baby on Christmas Eve, there was a massive blizzard on its way and when I got to the hospital I was 4 centimeters dilated. They actually talked about sending me home, and if they would have, I simply would have stayed in the lobby rather than risk trying to drive in a foot of snow. Happily they wound up keeping me and my daughter was born later that afternoon.
More cool birth stories
Preemie baby delivered breech in his parents' car
Marathon runner finishes race, skips awards to watch wife give birth
Mom gets married four hours after having a baby