Fantastic Feeding Accessories For Tiny Tots
From the best bibs to eating on the run, see which feeding supplies will make toddler meals a breeze (or at least a little easier).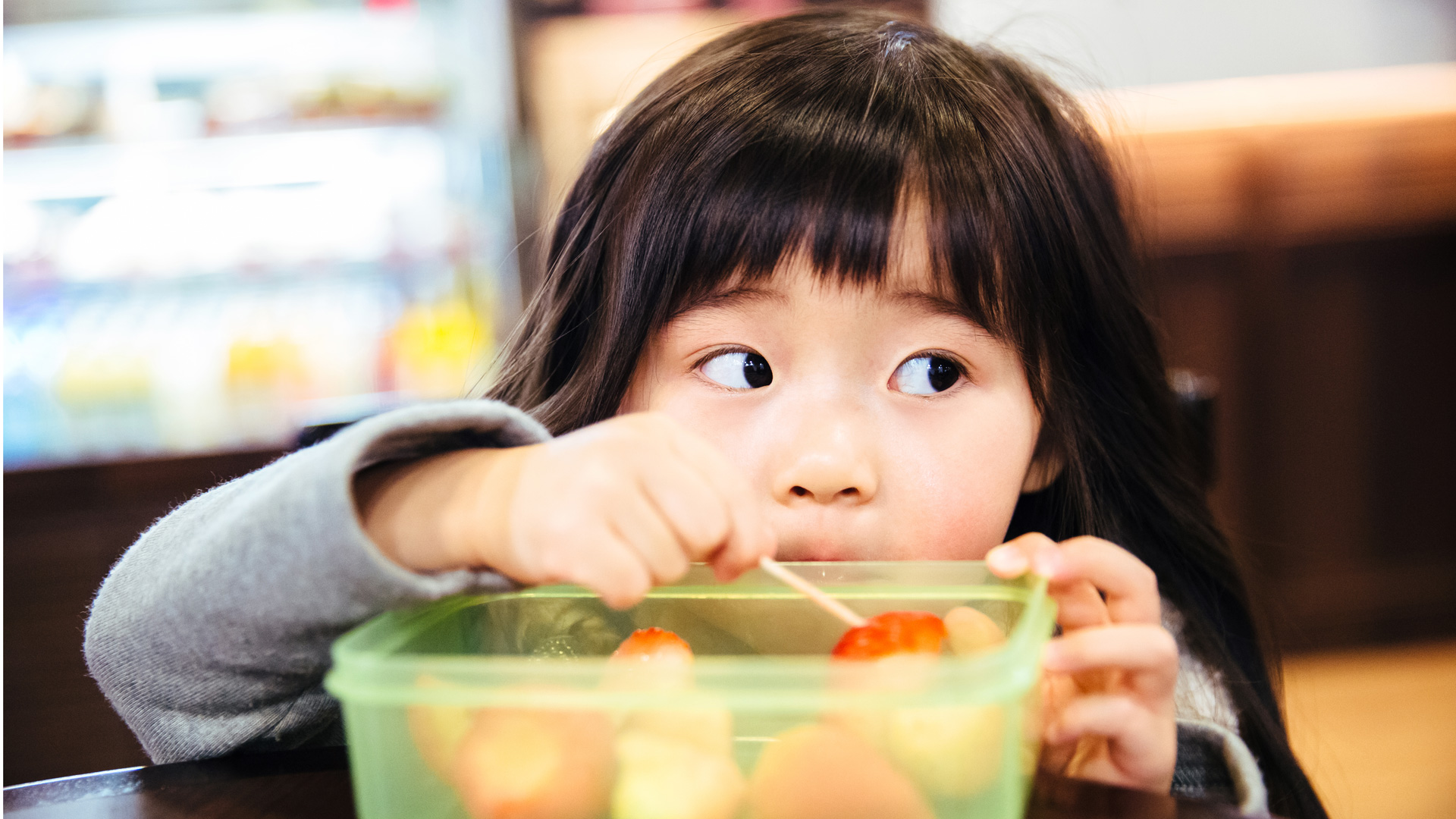 Photo credit: Tang Ming Tung/Moment/Getty Images
Ah, the adventures of feeding a toddler. As first-time parents we've been quick to learn the temperamental preferences of tiny tots. And, despite the massive amounts of research you'll do before making a single purchase, there's nothing quite like the tried and true method of trial and error.
As a newish mom, I've found one of the most helpful ways to pick out products is to ask other parents what works for them (or doesn't) and why. Then at least you can make an educated decision before spending your hard-earned dough on baby gear.
So, in the spirit of sharing, here is some of my favorite feeding gear specifically for tots. All of these products are ones I've personally tried and tested with my 16-month-old.
Multipurpose
I recently received a preview sample of Modern-Twist's Munch-Mates meal set and it's becoming our go-to container (Modern-Twist, $32, available for pre-order in October). Munch-Mates is a 3-piece meal set of a bowl, lid and cup. My favorite part of this set is that the lid can be flipped upside down and used as a plate (something that's difficult to do with other food storage containers). We haven't used the small toddler-sized cup yet for beverages, but it works great for holding Cheerios and cut-up grapes for snack time. Bonus: Since the set is made from super high-quality silicone, it won't make a ton of noise when your kid inevitably bangs it around on the high chair.
This product is set to roll out later in October, so make sure to check it out and get your pre-order in.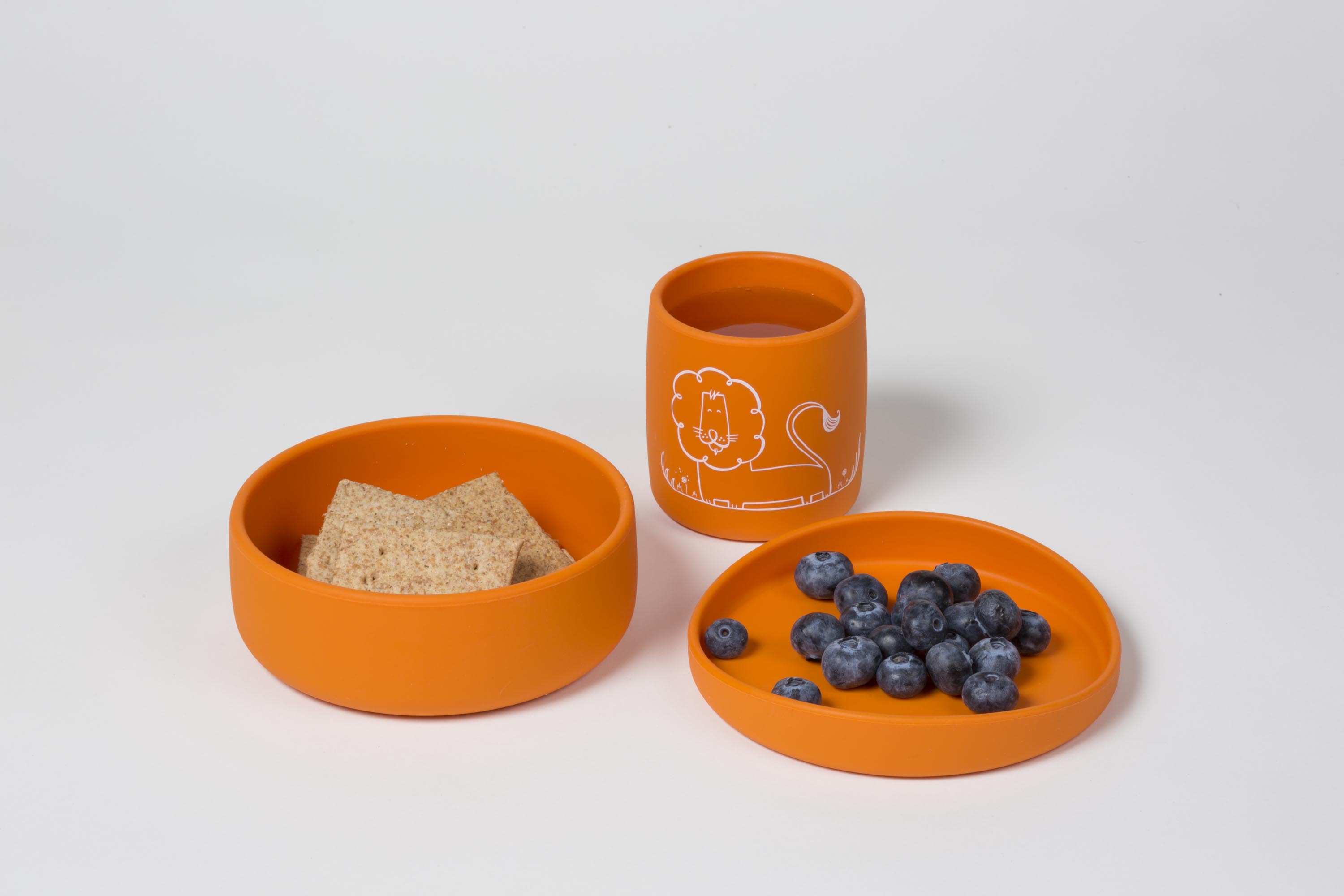 Learning to feed themselves
When toddlers practice feeding themselves, it can be messy stuff! My daughter had a habit of throwing everything off her high chair when she was finished eating, so we picked up a packet of stay-put-suction bowls to help keep everything in place (Munchkin, $10). These worked especially well when she was first learning hand-mouth coordination and constantly knocked into everything. Now, only the smallest container has a lid, which is great for storing smaller portions, but I wish each bowl came with a lid.
Bibs
We've tried our fair share of bibs, including the plethora of fabric bibs that people give as baby gifts which, while cute, don't really cut it in keeping baby clean. I've tried these green sprouts waterproof bibs, but found the material to be flimsy and the Velcro tab easy to rip off.
We've used this Bucket-Bib (Modern-Twist, $20) since our daughter first started eating and absolutely love it. As mentioned above, the high-quality silicone is a fantastic material and is super easy to wipe. Plus, this is one of the few bibs with a tabbed fastener and is almost impossible for our daughter to rip off.
Read my full review of the Bucket Bib.
Another bib I have been impressed with is this OXO roll-up bib, which also comes with a spoon (OXO, $13). It has a deep silicone pocket that's perfect for catching rogue bits of food. This bib is slightly narrower, making it a good option to use from baby to toddlerhood. Out of all the bibs I've tested, this one travels the best. It easily rolls up into itself and has a tab to keep it securely closed. The spoon fits perfectly in the pocket and it's super easy to stick in a diaper bag. (Note: I received a sample of this product, but all opinions are my own.)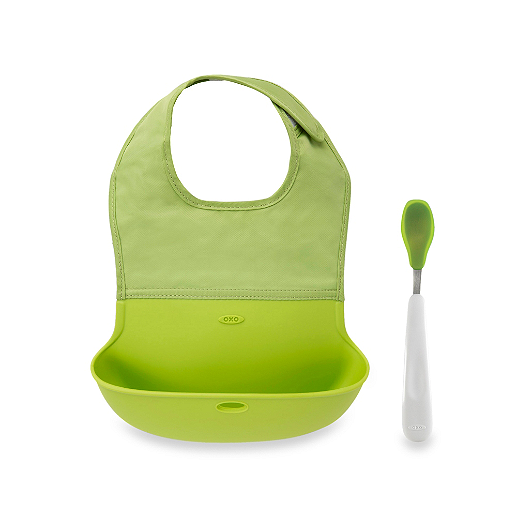 Snack Catcher
This simple little container is one of my must-haves while out and about with my tot. Unlike other snack holders, this deluxe snack catcher has a lid that's crucial for preventing Cheerios from constantly falling to the bottom of your diaper bag — or even worse, your purse (Target, $4).
Eating out
One of the things I hate about eating out with tots is the mess they make. There is food everywhere. Luckily, these disposable stick-on placemats will make clean-up time easier (Walmart, $15). Plus, you don't have to freak out about your kid touching all the grimy germs on the table.
On the go
For lunches while we're out and about, I usually just use a plain old Ziploc divided container (Ziploc, $5) since the individual compartments make it easy to keep cut-up fruits and veggies separate.
More on feeding toddlers
This will change how you cut your toddler's grapes
Family says they found maggots in their toddler's yogurt
Dealing with a picky eater? Don't worry, your tot won't starve