Raise A Bookwork From The Womb
Want to get a kick start on your kids' education? Start with books — even before your baby is born.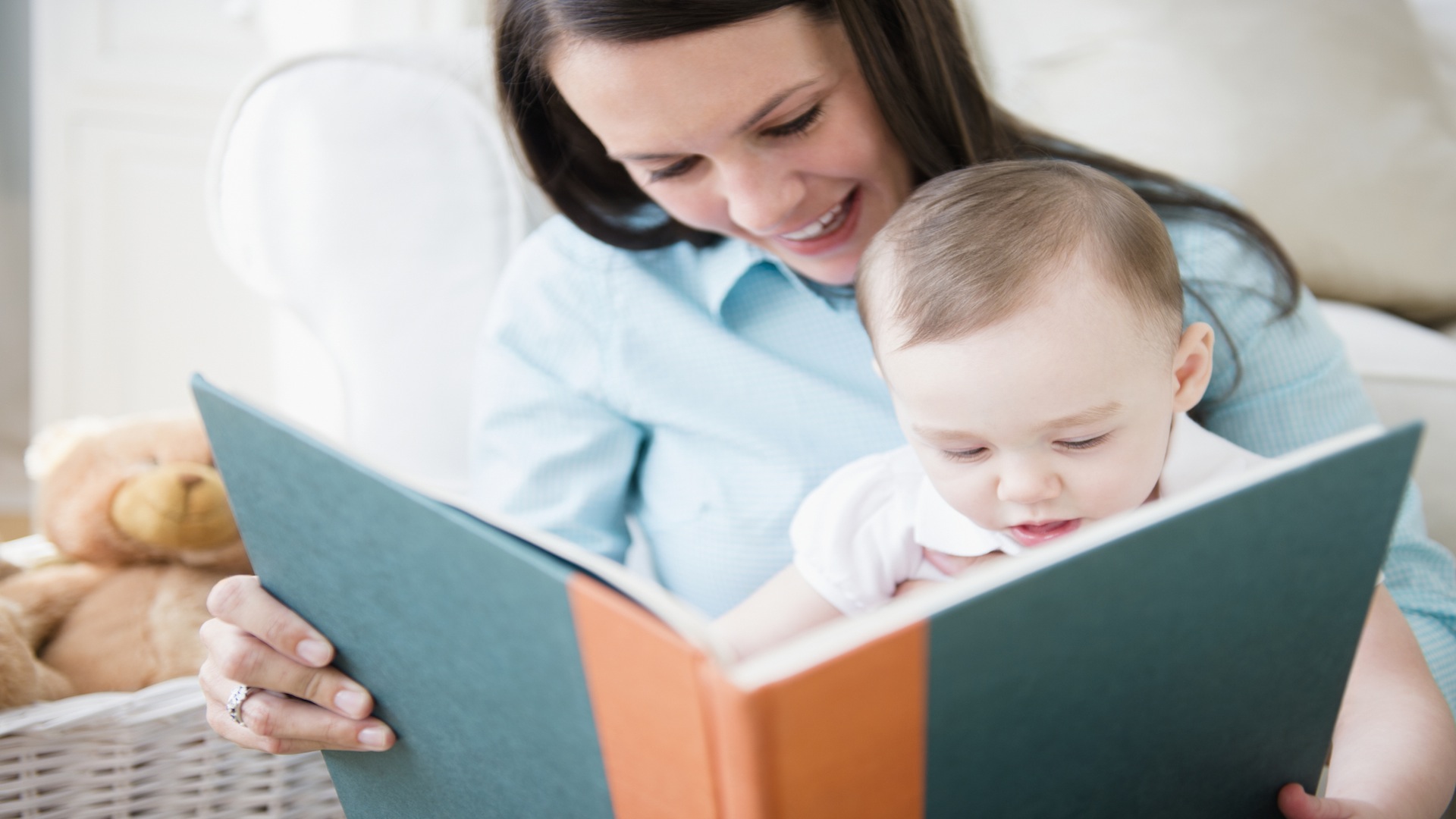 Photo credit: Tetra Images/Jamie Grill/Brand X Pictures/Getty Images
Baby is listening... so speak up!
It's no secret that babies can hear external sounds during their stay in the womb. So why not make the first words he hears ones of love, nurturing and education? In addition to talking to your bump to help you bond with your baby-to-be, reading to is a great way to help with voice recognition... especially if you run out of things to talk to him about (hey, it could happen!). Lullabies, classic nighttime stories (Goodnight Moon, anyone?) or even the lyrics to your favorite song (I used to sing my favorite Jewel tunes to my babies-in-waiting) can be the beginnings of a beautiful friendship between your baby and the written word.
Once Baby is born...
From the time Baby is a newborn, continue the habit of talking — in addition to reading and singing — to him. Choose a quiet time such as before a nap or at bedtime to start a reading routine. Understand that as your infant grows and becomes mobile, he may be more interested in crawling around and exploring than sitting down for a good read, so be patient. Choose books with bright colors, large and simple text, unique textures or patterns, flip-ups and other interactive options to pique Baby's interest.
Check out your library's offerings for babies and young kids
The very first thing I did when I started venturing out with my babies was renew my library card. Before kids, I hadn't been inside our local library since... well, I can't remember when. I discovered that it has an amazing kids' center as well as kid-centric programs like interactive story times for specific age groups — beginning from birth. Public libraries also have great summer programs to keep kids' noses in books during the break from school. Now that my kids are four and six, they have their own library cards and we participate in our library's summer reading program, which awards points for the activities they do at the library as well as the number of books they read during the summer. My kids get super-excited about going to the library, and I think it stems from our humble beginnings of strolling about the place before they could even walk.
Let Baby choose
When your baby gets to the point where he can start picking and choosing (believe me, this happens earlier than you think it might), go ahead and let him pick out his own books. Start with the board book section, but don't limit him to that... as long as he isn't into tearing out or eating the pages of a paperback!
Let Baby see you reading independently
To encourage Baby's love of learning and reading, spend some time reading to yourself. When Baby sees you curled up enjoying a good book, he's more likely to be encouraged to discover his own love for reading. When I first became a mom, my love for reading moved to the back burner (along with many other things... my sanity, for instance.). Now that I am finally enjoying more free time to read the things I want to read, I feel like my mind is coming out of that 'mom fog.' Phew!
More for you and your newborn
Nursing challenges?
Decoding Baby's skin
Swim safety for babies