Lil' Buddies
June 8, 2014 is National Best Friends Day. Plan a playdate for your tot with her favorite playmates. Happy Family has ideas for how your little one can have some fun with her baby besties.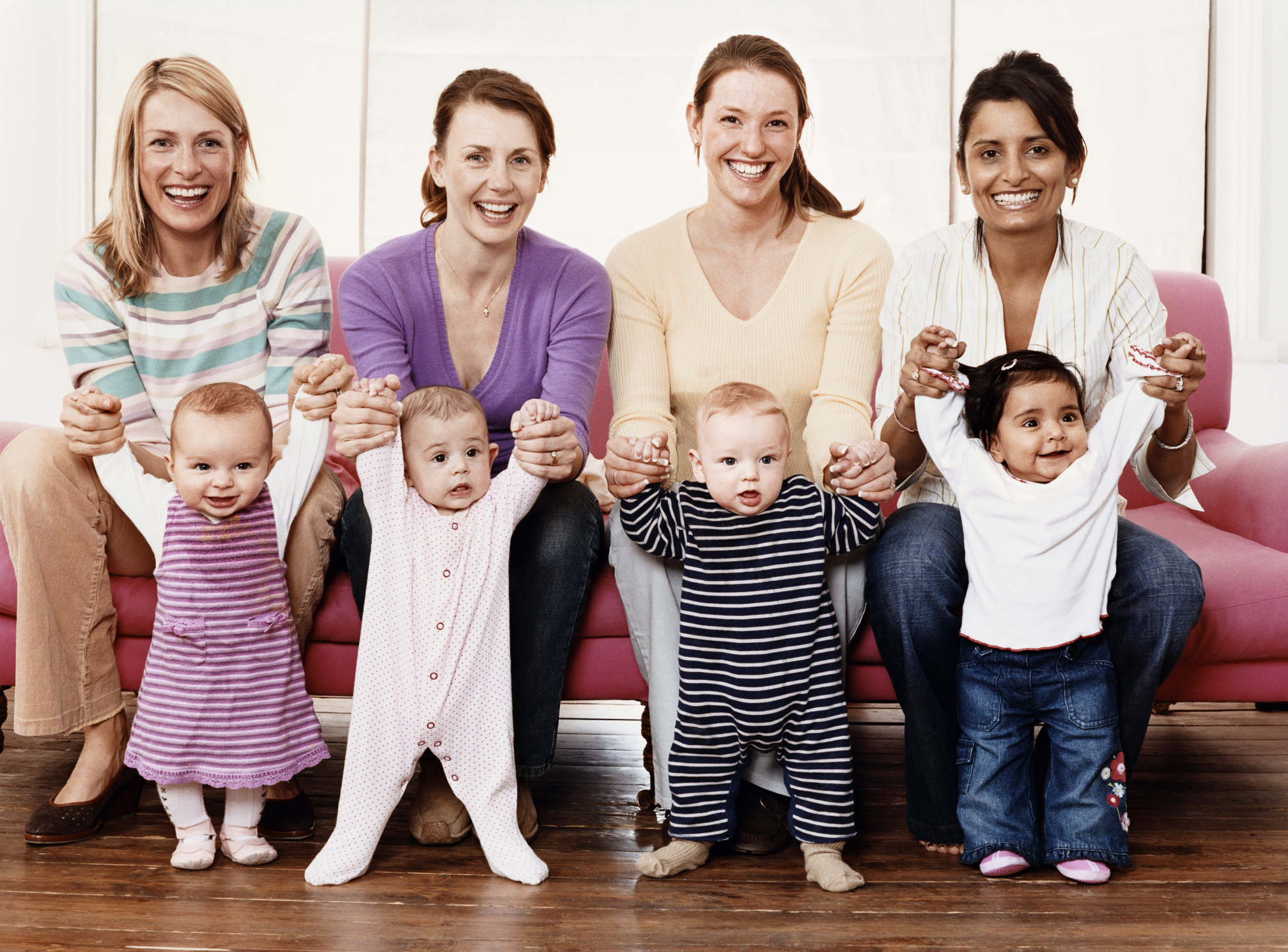 Photo credit: Digital Vision/Getty Images
In honor of National Best Friends Day, Happy Family, the organic baby food company, is sharing family-friendly cookie recipes you can share with your BFFs.
Sure, there seems to be a day for everything these days, but this is one day we can get on board with.
New moms know just how important it is to have a "momtourage" who can help support each other during Baby's first year. Plus, your babies can bond and become playmates.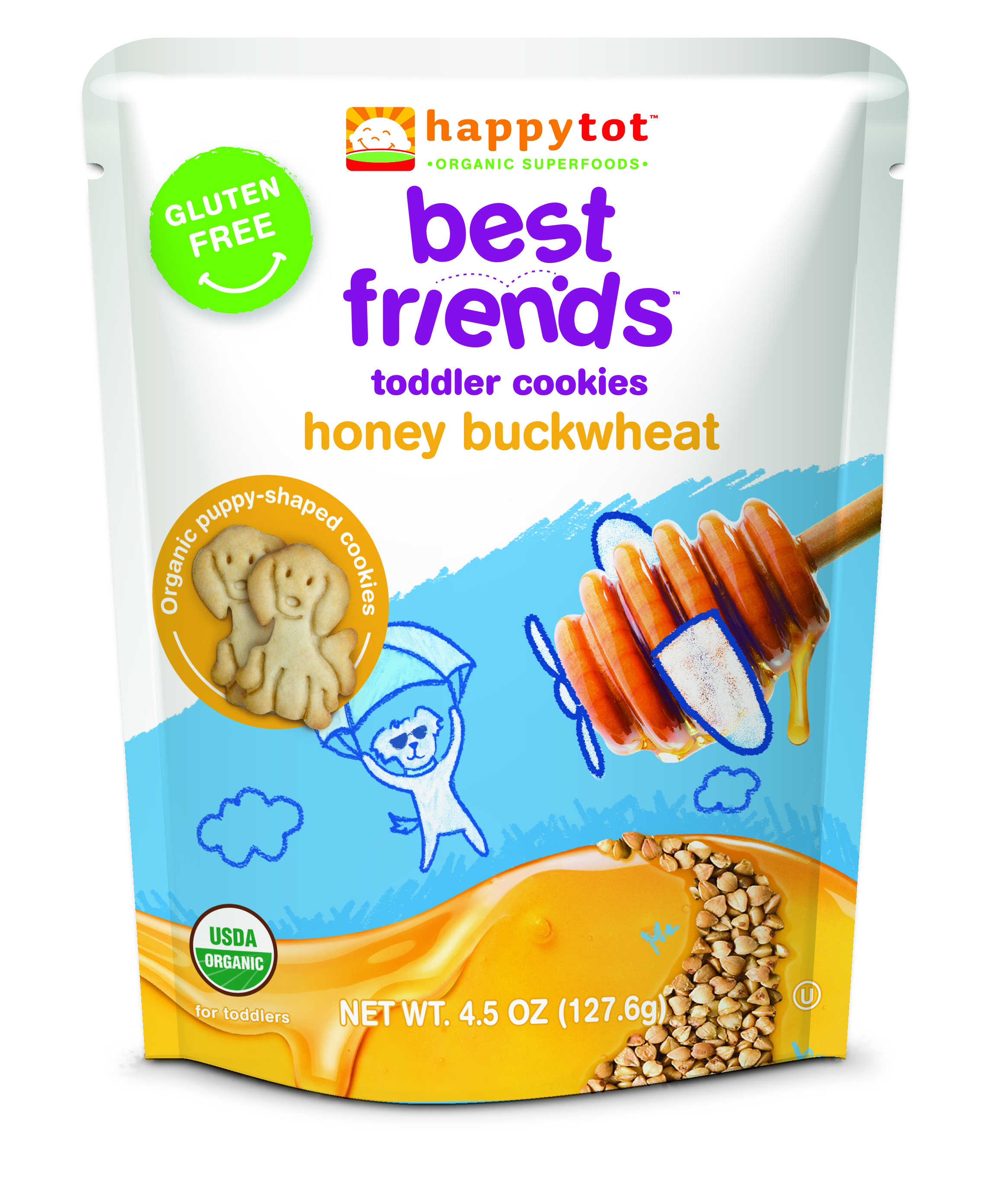 Show your new mom and baby friends how thankful you are to have them in your life by hosting a National Best Friends Day playdate with a few extra-special treats.
Tots can snack on Happy Family's Best Friends toddler cookies, which come in Chocolate Pumpkin and Honey Buckwheat, while moms can munch on healthier versions of classic cookie flavors. Note: These cookies can get a little messy, especially the chocolate flavor, so make sure to have some wipes around to help clean up after your toddler enjoys a few treats.
For your mom friends and older kids, check out these cookie recipes recommended by Happy Family Founder and CEO Shazi Visram.
Have fun with your best buddies and spread the word on National Best Friends Day by using the dedicated hashtag #HappyBestFriendDay.
National Best Friends Day Cookie Recipes
Better-for-You Sugar Cookies
Ingredients: 
1 cup packed brown sugar
1/2 cup Earth Balance Soy Butter
1 egg
2 tablespoons organic milk
1 teaspoon vanilla extract
2 cups whole wheat flour
1 teaspoon baking powder
1/2 teaspoon baking soda
1/4 teaspoon salt
4 tablespoons flaxseed meal
1/4 teaspoon ground nutmeg
1 tablespoon sugar
Instructions: 
Preheat oven to 375 degrees F. In a medium bowl, using an electric mixer, cream together sugar and Earth Balance Soy Butter until fluffy, about 3 minutes.
Add egg, milk and vanilla extract, and mix well.
In a separate bowl, blend together flour, baking powder, baking soda, salt, nutmeg and flaxseed.
Add to egg mixture and continue to mix until well blended. Shape dough into balls, using about 2 teaspoons each; roll in granulated sugar.
Place about 2 inches apart on cookie sheet coated with cooking spray; flatten cookie slightly.
Bake for 9-10 minutes, or until golden brown. Cool on pan for 2 minutes and transfer to wire rack.
Cream Cheese Frosting
Ingredients:
1 (8 ounce) container organic cream cheese
1/3 cup of powdered sugar
6 ounces Happy Tot Sweet Potato, Carrots, Apple and Cinnamon
Instructions: 
Mix well with an electric mixer and chill.
For chocolate frosting, add 1/2 Dutch unsweetened cocoa powder and 1/2 cup of powdered sugar.
Oatmeal Cookies
Ingredients:
1/2 cup butter (room temperature)
1-1/2 cups brown sugar
1 teaspoon baking powder
1/4 teaspoon baking soda
1 teaspoon cinnamon
3 eggs
2 cups whole wheat flour
1 container Happy Bellies Oatmeal Cereal
8 ounces unsweetened applesauce (or 8 ounces Happy Baby, Stage 1 Pear)
1 teaspoon vanilla extract
1/4 cup water
Decorative sprinkles (optional)
Instructions:
Preheat oven to 350 degrees Fahrenheit.
In a large bowl, combine whole wheat flour, baking soda, baking powder, brown sugar, Happy Bellies Oatmeal Cereal and cinnamon.
Combine 1/4 cup of water, applesauce (or Happy Baby Pear), vanilla extract and eggs.
Mix well and pour on top of the dry mixture.
Add butter and, with a mixer, combine all ingredients until moist.
On a baking sheet, spoon out oatmeal cookie dough and make into balls. Press down on each one, adding sprinkles to make the cookies look more festive.
Bake for about 13 minutes.
More activities for baby
Fun activities for your cruiser
Indoor activities to keep Baby busy
10 Ideas for summer fun with Baby