Pajamas Don't Meet Flammability Standards
Empress Arts is recalling their toddler-sized pajama sets because they don't meet federal flammability standards.
Photo credit: Jupiterimages/Photos.com / 360/Getty Images
Around 1,400 sets of toddler pajamas have been recalled by Empress Arts because the garments don't meet federal flammability standards.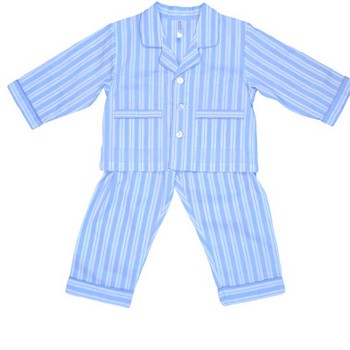 Product description: This recall focuses on four styles of two-piece pajama outfits from Empress Arts in sizes 12 months to 4T. The styles are called Blue Dot, Blue Stripe, Pink Dot and Pink Floral and "Empress Arts" appears on a label attached to the back of the tops and pants. The bottoms also feature an elastic waistband and drawstring.
Where/when they were sold: These recalled PJ sets were sold at children's boutiques nationwide and online at www.empressarts.com from December 2012 to April 2014 for about $36.
Reason for the recall: The pajamas don't meet federal flammability standards and pose a burn hazard for children. There have been no injuries reported.
What you need to do: You should take the pajamas away from your children and return them to Empress Arts for a $36 online credit plus free shipping.
Company information: You can contact Empress Arts toll-free at (844) 295-8181 from 9 a.m. to 5 p.m. PT daily, or go online at www.empressarts.com and click on "Product Recall" for more information.
Photo credit: USCPSC
More recalls
Recall: Lakeshore Learning Bristle Builders for Toddlers
Recall: H&M toddler and girls' belted leggings
Recall: Stonyfield YoBaby yogurt