If your toddler has a pair of belted leggings from H&M, you may want to see if they are a part of this recall.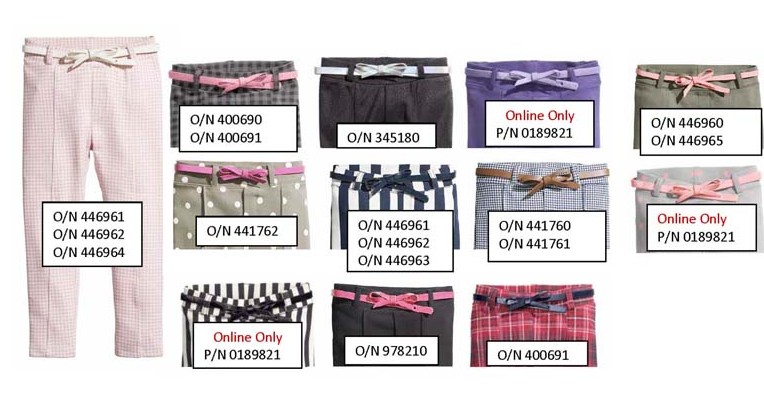 Photo credit: USCPSC
Over 65,000 leggings from H&M are being recalled because part of the belt can come off, posing a choking hazard.
Product description: This recall focuses on H&M girls' leggings sold in the following colors: black/pink belt, black/silver belt, black and white stripe/black belt, blue and white stripe/blue belt, blue hounds-tooth/blue belt, grey check/pink belt, grey with dots/pink belt, khaki/pink belt, khaki with dots/pink belt, pink and white check/white belt, purple/purple belt and red and blue plaid/blue belt.
The knit leggings came in sizes 1-1/2 to 8 years and have a plastic belt with a bow-shaped buckle. H&M is printed on the back of the care label. The care label is either black or white and attached to the waistband in the back of the leggings.
The garments have an O/N (order number) and P/N (product number) printed on the top of the care label. The following O/N numbers are included in the recall: 345180, 400690, 400691, 441760, 441761, 441762, 446960, 446961, 446962, 446963, 446965 and 978210.
Where/when they were sold: These recalled leggings were sold exclusively at H&M stores nationwide and online at HM.com from August 2012 to April 2014 for between $3 and $15.
Reason for the recall: A metal part on the belt can detach, which poses a choking hazard. There has been one report of a choking incident in the U.K., but none have been reported in the U.S. yet.
What you need to do: If you have a recalled pair of H&M leggings, stop using the belt and remove it from the leggings. Contact H&M customer service to find out how to return it for a $20 gift card.
Company information: You can contact H&M customer service by phone toll-free at (855) 466-7467 from 8 a.m. to 1 a.m. EST any day. You can also email them at customerservice.us@hm.com or go online at www.hm.com and click on "Product Safety Recall — read more" at the bottom of the page for more information.
More recalls
Recall: Stonyfield YoBaby yogurt
Recall: Rechargeable batteries used in Summer Infant video monitors
Recall: 1.3 million Evenflo convertible and booster car seats