Batteries Can Pose A Burn Hazard
Due to the fact that the rechargeable batteries for its video monitors can overheat and rupture, Summer Infant has expanded its recall to offer battery replacement.

Photo credit: PhotoAlto/Ale Ventura/PhotoAlto Agency RF Collections/Getty Images
Product description:
According to the Consumer Product Safety Commission, the rechargeable batteries used in Summer Infant handheld color video monitors are about 1-1/2 inches tall by 2-1/4 inches wide and are 1/4-inch thick, black, and are marked with 'TCL' on the lower right corner of the battery. Monitors are sold with a matching camera and A/C adaptors. Batteries will have one of these letter and number combinations in the beginning of the serial number on the back of the battery: S/N: JNN-S150A, S/N: JNN-S150B, S/N: JNN-S150C, S/N:JNS150-BA, S/N:JNS150-BB, S/N:JNS150-BC or S/N:JNS150A.
Model numbers which use these batteries are as follows: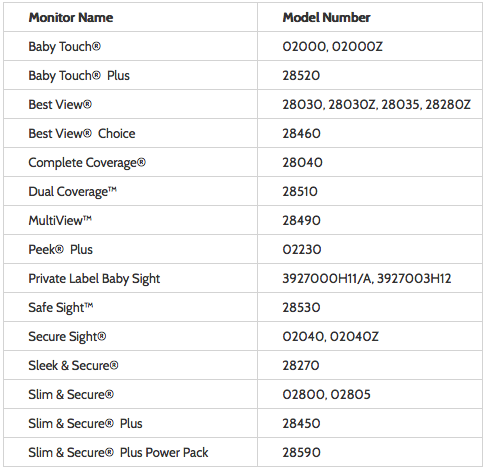 Where/when they were sold:
The batteries were sold at mass merchants, including Babies "R" Us, online retailers and independent children's specialty stores, between February 2010 and 2012 for between $150 to $350. There are about 800,000 batteries included in the recall, 58,800 of which were originally recalled in February 2011.
Reason for the recall:
Twenty-two cased of overheated and ruptured batteries, including cases of smoke and minor property damage, have been reported to Summer Infant.
What you need to do:
Consumers are being told to remove the battery from their devices and contact Summer Infant for a replacement battery. With the battery removed, the monitor can continue to be used on AC power with the power cord.
Company information:
Call Summer Infant at 800-426-8627 anytime or go online at www.summerinfant.com/alerts/battery-recall for information on battery replacement.
More recent recalls
Recall: 1.3 million Evenflo convertible and booster car seats
Recall: AC/DC adapter for Playtex Nurser Deluxe Double Electric Breast Pump
Recall: Vera Bradley Bear Ring Rattles and Bunny Stuffed Toys