Baby And Mother
In Great Health
Depsite her large size, what may be the largest baby born in Massachusetts this year is in great health, as is her proud mom.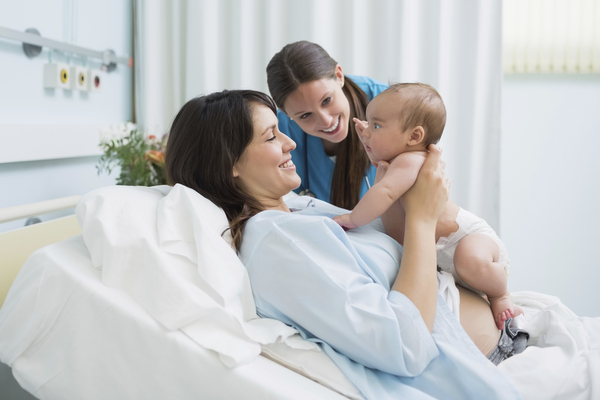 Photo credit: 4774344sean/iStock / 360/Getty Images
Large newborns are often the result of gestational diabetes in the mother (or other medical issues), and they and their moms can experience complications after birth. Fortunately, there is no such worry for a new baby named Carisa, who tipped the scales at a whopping 14.5 pounds after her delivery and measured 22 inches in length.
Giant, healthy baby
Caroline Ruscak and her husband, Brian, were in disbelief when their huge newborn was put on the scale. The proud new dad was understandably shocked and took a photo of the scale readout, while the new mom was happy there was a reason her pregnancy was so uncomfortable. "I heard the weight and I was like, 'Oh, my God,'" she says. "It validated me because I was in a lot of pain when I was pregnant, so to hear her size, it made sense."
She delivered her daughter via C-section, and while the physicians were expecting a big baby (her first child was over 10 pounds), they weren't expecting a girl quite this big.
Record-breaking weight
It's being reported that this is the largest baby born at Massachusetts General Hospital in Boston over the last 12 years, and is likely the biggest baby born in the state this year. This is not a record that many moms would be all that interested in breaking. I know most people would be relieved that this mother had a C-section, but women can and do deliver babies this large via vaginal delivery. No, it wouldn't be much fun, but it can be done.
I'm sure this mother was sore enough as it was, carrying around nearly 15 pounds of baby and now recovering from a C-section. I had tons of discomfort while pregnant with each of my kids, and while they were all good sized, they weren't that big — my largest was just over 8.5 pounds, and my smallest was just under 8 pounds.
Would you want a record-breaking baby, or are you happy with an average-sized one? Do tell!
More unusual birth stories
Britain has new set of "youngest parents"
Stomach flu, or labor and delivery?
Mom went for mani-pedi, also had a baby