Mom's Weight Tied To Increased Risk
A new study suggests that a mom-to-be's weight gain may be tied to an increased risk for childhood obesity in her child.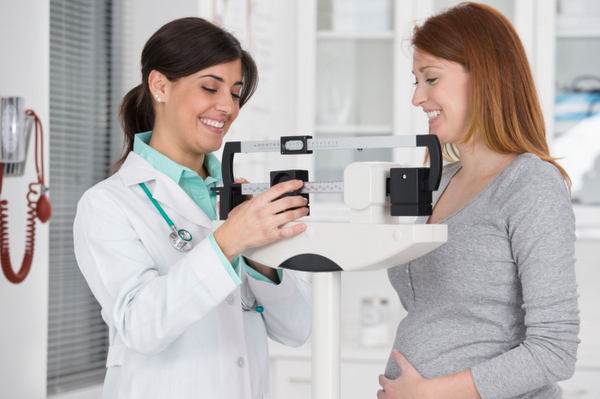 Photo credit: Ariel Skelley/Blend Images/Getty Images
Pregnancy weight gain is a tricky issue — gain too little and you worry, gain too much and you worry. Now a new study says that if a mom-to-be gains too much weight, her child may be at increased risk for obesity by the time she hits preschool.
Weight gain in mother and child
A general guideline that is set out for pregnant women is a 28- to 40-pound weight gain for women of recommended weight as well as underweight women. For overweight women, 15 to 25 pounds is the recommendation, and obese women are advised to gain just 11 to 20 pounds.
Researchers followed over 4,000 women from before they were pregnant until their kids were 2 to 5 years old. They found that the children of mothers who gained too much according to these guidelines had a 46 percent increased risk of becoming overweight or obese themselves.
Different risks for different groups
It also turns out that this effect was more remarkable for women who did not start out a pregnancy in the overweight category — for those mothers, gaining more than the recommended guidelines increased their child's risk of being overweight or obese by 79 percent. Interestingly, those women who gained less than the recommended amount increased their child's chances by 63 percent.
However, study authors stress that more than half of women gain too much during their pregnancy, and only 10 percent gain too little, so the focus should be on helping moms-to-be maintain a healthy diet, rather than urging most to lose more weight.
Pregnancy weight gain
However, I do think that this is often easier said than done. I think we gain what we're going to gain and there often isn't a lot we can do about it. If you find some food revolting or nauseating, you're not going to eat it no matter how good it is for you. Avoiding a craving can be hard to do, also. If you're concerned about your weight gain (or lack thereof), your doctor or midwife can work with you to help.
More on prenatal health
How to choose the right health care provider for your pregnancy
8 Expert tips for healthy pregnancy nutrition
Autism and antidepressants have been linked in new study