Don't Go Hungry With These Tips
You have a unique relationship with food when you're pregnant — make sure that you stock up before heading into work each day.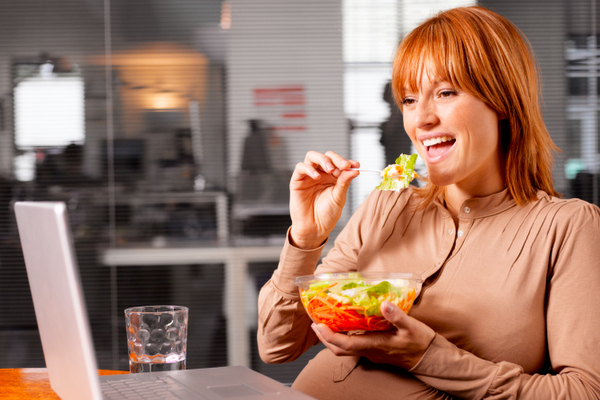 Photo credit: Peter Dazeley/Photographer's Choice RF/Getty Images
Being pregnant at work is challenging in many ways, and making sure you have enough of the right kinds of foods to eat is up there at the top. If you don't snack often, you can get nauseated or lightheaded, so you want to make sure you have plenty to eat throughout your day. These tips can help keep you topped up even when you're away from home.
Analyze your workspace
Every working environment is different. Before you plan your snack, see what's available to you. Take note if there is a refrigerator to store cold foods, and if not, see what sorts of storage you can bring yourself, like an insulated lunch box with a cooling pack. Also, find out what work policy is on food as soon as you can. Many workplaces allow you to snack at your desk or station, but others require you to take breaks before you can eat.
Easy refrigerated snacks
If you can bring cold foods, there are plenty of ideas to keep you from starving. String cheese, pudding and yogurt are excellent dairy items that can help keep you full. Also, load up with sliced fresh veggies (and dip if desired).
Fruit
Dried fruits are another wonderful addition to your diet, and they can be easily transported to and from work. They require no refrigeration and can not only help curb a sweet tooth, but they can really help your digestive system if you're feeling a bit wonky from pregnancy. Fresh fruit also needs no refrigeration and can be paired with a yummy, healthy dip, like a nut butter.
Easy grains
Saltine crackers are an essential component for pregnant women, whether you're suffering from morning sickness or not. Other crackers, stuffed with whole grains, are a better nutritional choice if your tummy can handle it. Also consider packing along your favorite dry cereal. Many types of cereal can be thoroughly enjoyed without milk, and you can easily add in other ingredients to make your own trail mix — consider shaved coconut, pumpkin or sunflower seeds and raisins.
More on pregnancy
Bellabeat: Listen to your baby's heartbeat
Do you have prenatal anxiety?
What if you don't want a baby shower?