Baby Boy's First Easter
Your little guy might be too young to enjoy jelly beans and other Easter treats, but you can make sure he's dressed to the nines for his picture with the Easter bunny. These outfit ideas are perfect for our favorite spring holiday.
During Easter it's totally legit to dress your little boy in pink. Pair it with a cute little bow tie and vest and no one will mistake baby boy for a little girl.
Plaid shirt and vest outfit (Gymboree, prices vary)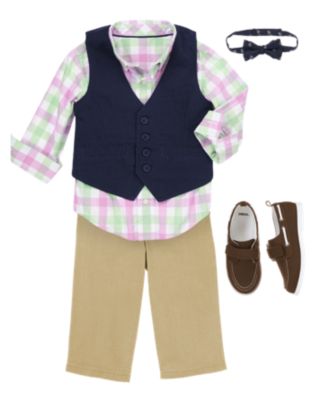 Mint green is everywhere this spring — especially in kids' fashion. Complete this little number with a white newsboy hat (The Children's Place, $6) for an outdoor Easter egg hunt (and totally adorbs photo opp).
3-piece Argyle sweater vest set (Belk, $29)
It takes mad skills to successfully mix patterns. Teach your son this valuable fashion skill early. This preppy set combines a plaid belt with striped seersucker pants.
Ralph Lauren oxford and pants (Macy's, $21)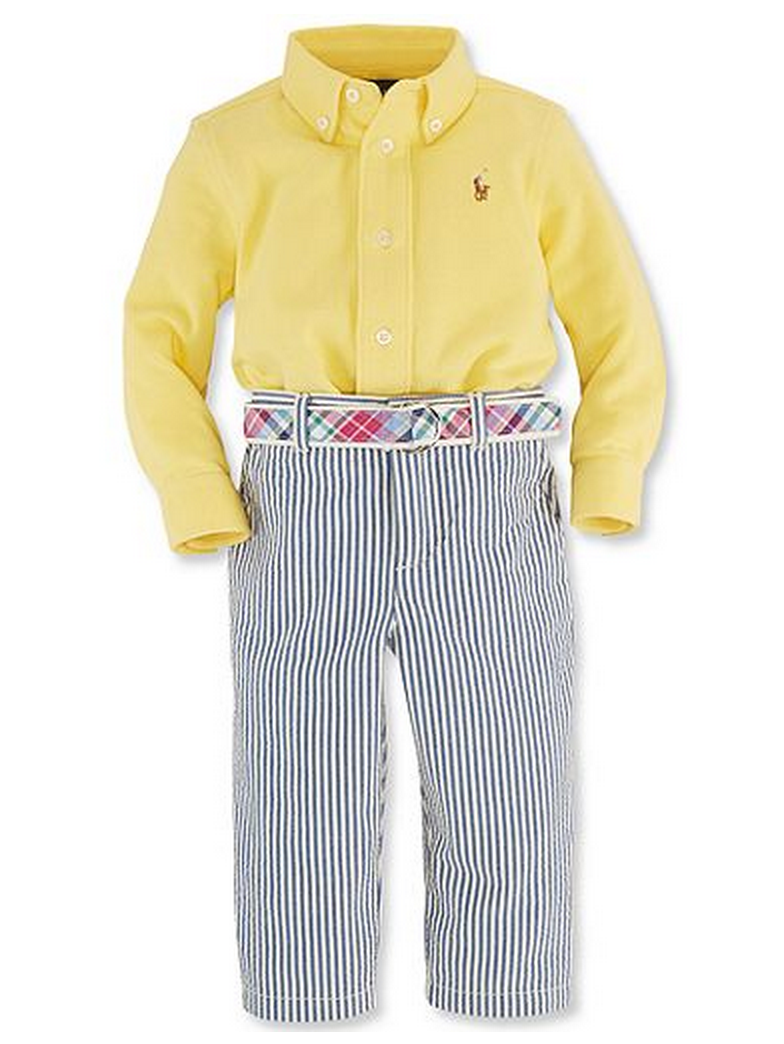 Looking to coordinate your little man without looking too matchy-matchy? Pull out one color from his outfit to wear. We like this cute kelly green dress (Nordstrom, $68) with the outfit below.
Woven shirt and pants set (Kohls, $23)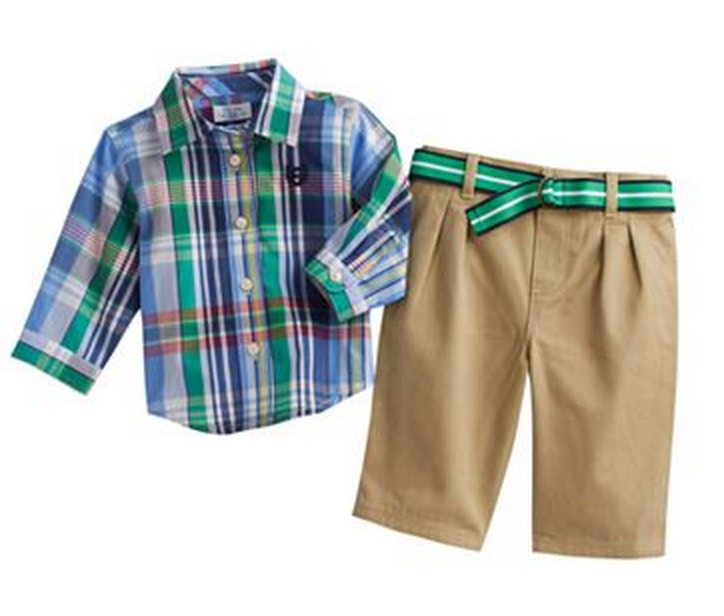 Let's face it. You have a boy. Which means dirt. Before baby is mobile (and discovers the joys of playing in the mud), dress him in a crisp white outfit at least once. And stock up on bleach.
Spirit dandy white set (Catimini, $109)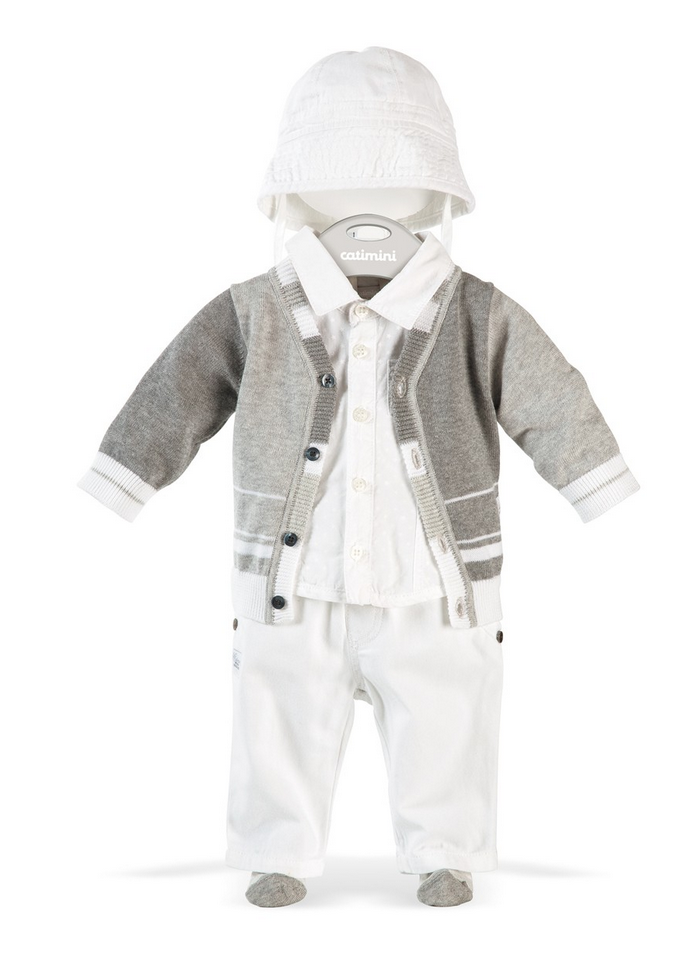 6
Cute as a carrot
If Easter is your jam and you like to go all out with classic details like Peter Rabbit decor, then this little number might be for you.
Carrot cuties boy's shortall (Wooden Soldier, $62)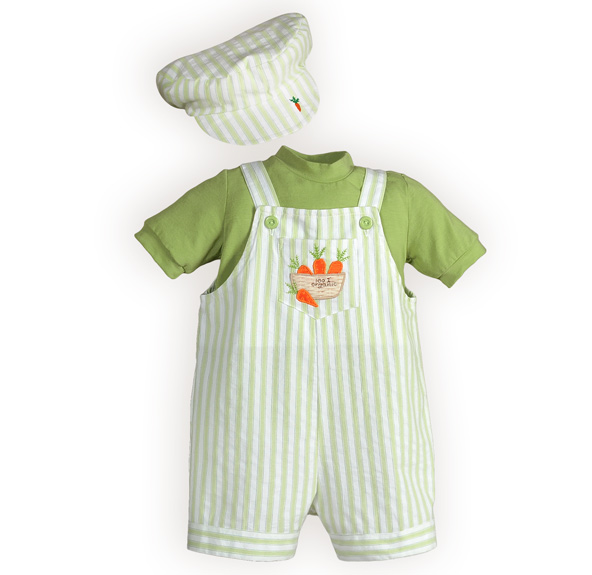 Have a household of young boys? Dress the whole crew up with a similar theme. They'll look super adorable in a coordinating set. Even better, you'll have awesome pictures to embarrass them with when they hit the moody teenage years.
Bunny stripes Easter outfits (Wooden Soldier, prices vary)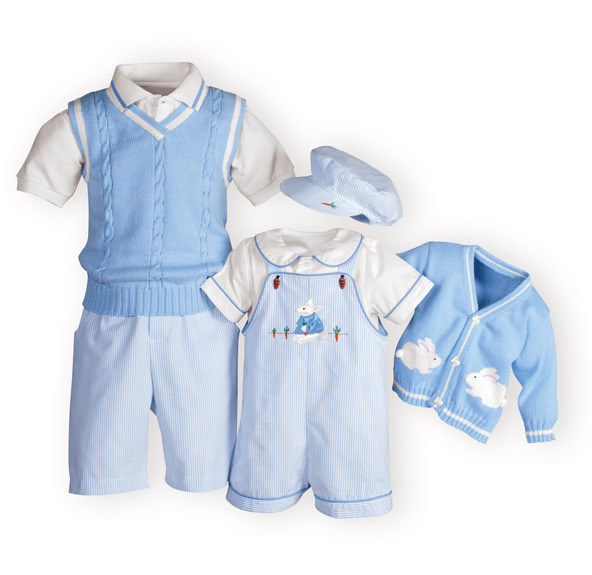 8
A dash of dapper
If baby boy is growing like a weed, you might not want to shell out big bucks for a fancy Easter outfit he'll wear just once. This adjustable bow tie can dress up a plain white shirt and khaki pants. Best of all, it's reversible so you get two looks in one! Flip it over for another dressy spring event like Mother's Day.
Dotty plaid reversible bow tie (Tadpole & Lily, $35)
More ideas for baby's First Easter
7 Ideas for baby's Easter basket
5 Pink Easter dresses for baby girl
5 Fun ideas for Baby's First Easter