Car Seat Issues With Sticking Buckles
Similar to the recent Graco car seat recall, Evenflo has now issued a voluntary recall of some of its convertible and booster car seats. Is yours affected?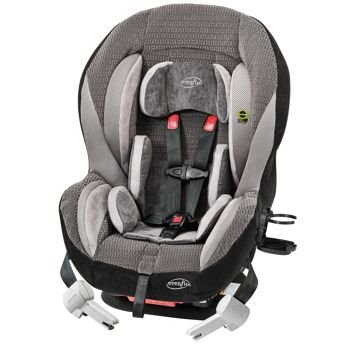 Evenflo is recalling over 1.3 million convertible and booster car seats due to buckle issues. Not all of these are included, however, and at this time, no infant car seats are part of the recall. Read on to see if your child's car seat is included.
Product description: This recall focuses on convertible and booster car seats from Evenflo.
At this time, only the following models are affected:
Momentum
Chase
Maestro
Symphony
Snugli
Titan
SureRide
SecureKid
Look for model number prefixes that begin with: 306, 308, 310, 329, 345, 346, 371 or 385.
Where/when it was sold: These recalled car seats were manufactured between 2011 and 2014 and were sold nationwide at retail stores and online.
Reason for the recall: Evenflo reports that the car seat buckles on these models may become difficult to undo over time, due to the presence of food and drink or other factors. The car seats work as they should in the event of an accident, but a stuck buckle can be dangerous if you need to remove your child quickly. There have been no injuries reported.
What you need to do: Continue to use your car seat. Registered owners will be alerted and will receive replacement buckles and instructions in the mail this month.
Company information: You can contact Evenflo at 800-490-7591 or check them out online at buckle.evenflo.com.
More recalls
Recall: My Sweet Love/My Sweet Baby Cuddle Care Baby Doll from Walmart
Recall: AC/DC adapter for Playtex Nurser Deluxe Double Electric Breast Pump
Recall: Vera Bradley Bear Ring Rattles and Bunny Stuffed Toys