Don't Ditch Your Friends Without Kids
When you welcome a new baby, you'll make a whole host of new friends through mom groups, baby-and-me classes and more. But don't forget about those tried and true girls — even if they don't have kids yet.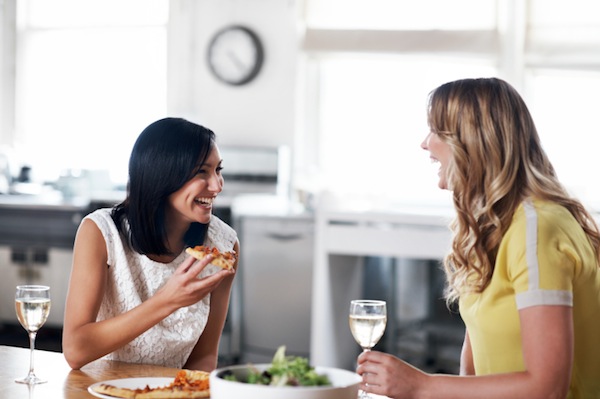 Photo credit: AMV Photo/Digital Vision/Getty Images
They know the real you
The girlfriends you've had forever know the real you. The one who loved to have a few too many Bellinis at happy hour (pre-baby, of course), who didn't change a diaper a day in her life until she became a mom and who loved to dance until dawn instead of wake up at that hour.
They won't understand... and that's a good thing
When you're in the throes of new motherhood, it's easy to forget that there are other things that matter besides nursing Baby exclusively and getting him down for his nap on time. Your friends without kids may not realize the utter importance of these matters — and that's okay. In fact, getting out with your non-mom friends and talking about things other than baby-related topics is really good for you, Mom. So take a break every now and then to reconnect with your girlfriends and find out what's been going on in their lives while you've been perfecting the perfect swaddle fold.
They'll pick you up no matter what
Your non-mom friends won't judge you when you decide to stop breastfeeding after six months or a year — or whenever — or if you buy jarred baby food instead of making your own from scratch (seriously, who has time for that?). And when you've had a really tough day — like when Baby had a major blow out all over the interior of your new SUV and then again on the first outfit you've purchased since storing away your pregnancy clothes — they are the ones who can help you see the hilarity of it all. Yes, they'll let you cry. And then they'll laugh with you (and maybe a little at you, but mostly out of love).
They need you, too
Yes, having kids is time consuming. But there is no reason to trade in your old life (and those in it) for a new life in parenthood. As with all things, it's all about balance. So you may not have time for happy hour every Wednesday with your besties anymore, but they miss you. Commit to getting together once a month, even if you have them over for dinner or lunch while Baby naps, and touch base with them through calls, email or Facebook in the meanwhile. Before long, they may be moms, too, and you can trade out your happy hours for mommy play dates.
More on new motherhood
5 New mom positive affirmations
10 Life hacks for new parents
Spring to-do list for new moms