Dolls Pose
Burn Hazard
Does your child have a My Sweet Love/My Sweet Baby Cuddle Care Baby Doll? They were sold exclusively at Walmart and have now been recalled due to a burn hazard.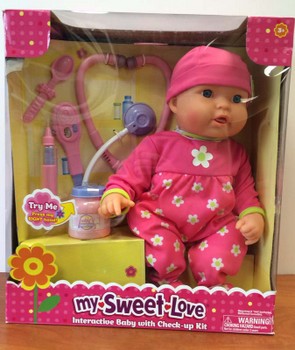 Around 174,000 baby dolls sold exclusively at Walmart are being recalled because a component can overheat, which poses a burn hazard for your little one.
Product description: This recall focuses on Walmart's My Sweet Love / My Sweet Baby Cuddle Care Baby Doll. It's a 16-inch electronic baby doll that comes dressed in pink floral clothing and a matching pink hat. The doll is packaged with a medical care kit, which includes a stethoscope, feeding spoon, thermometer and syringe. The doll babbles when "sick," her cheeks turn red and she coughs. The items from the medical kit help her get "better." She can be identified by a UPC code — 6-04576-16800-5 — and a date code which begins with WM.
Where/when it was sold: These recalled dolls were sold exclusively at Walmart from August 2012 through March 2014 for $20.
Reason for the recall: A circuit board located in the chest can overheat, making it a burn hazard. Walmart has received 12 incident reports, including two reports of blisters or burns on the thumb.
What you need to do: Take the doll away from children immediately and return to any Walmart for a full refund.
Company information: You can contact Walmart at 800-925-6278 from 7 a.m. to 9 p.m. CT Monday through Friday, from 9 a.m. to 9 p.m. CT on Saturdays and from 12 p.m. to 6 p.m. CT on Sundays. You can also find information online at walmart.com and click on "Product Recalls" for more information.
More recalls
Recall: AC/DC adapter for Playtex Nurser Deluxe Double Electric Breast Pump
Recall: Vera Bradley Bear Ring Rattles and Bunny Stuffed Toys
Recall: Cork Stacker toys from A Harvest Company