Adapter Poses Electric Shock Hazard
Playtex is recalling certain AC/DC adapters for their Playtex Nurser Deluxe Double Electric Breast Pump. If you have one, you'll want to check this out.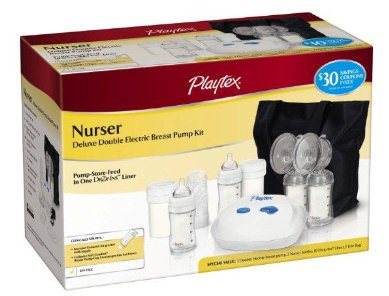 Playtex is voluntarily recalling the AC/DC adapters for certain Nurser Deluxe Double Electric Breast Pumps because they pose an electric shock hazard.
Product description: This recall focuses on adapters that were sold with the Playtex Nurser Deluxe Double Electric Breast Pump. The adapters came with the breast pumps and were not sold separately. You can identify if your product is affected by this recall by checking out the product serial number (P12324-XXXX through P13205-XXXX) or by the adapter production code (1241 through 1324).
Where/when it was sold: The pumps these adapters came with were sold at nationwide, specialty and online retailers and were manufactured from November 2012 through July 2013.
Reason for the recall: The casing on the adapters may become loose, which poses a risk of electric shock. No injuries have been reported.
What you need to do: If your adapter shows signs of separating, discontinue use immediately and contact Playtex for a replacement adapter.
Company information: You can contact Playtex at 888-207-1429 from 8 a.m. to 6 p.m. ET Monday through Friday or find them online at playtexproducts.com.
More recalls
Recall: Vera Bradley Bear Ring Rattles and Bunny Stuffed Toys
Recall: Cork Stacker toys from A Harvest Company
Recall: Infantino Go Gaga Squeeze & Teethe Coco the Monkey