5 Things To Try This Spring
Say goodbye to Old Man Winter. Spring has officially arrived and we're ready to enjoy the beautiful season. See our must-do ideas for new moms.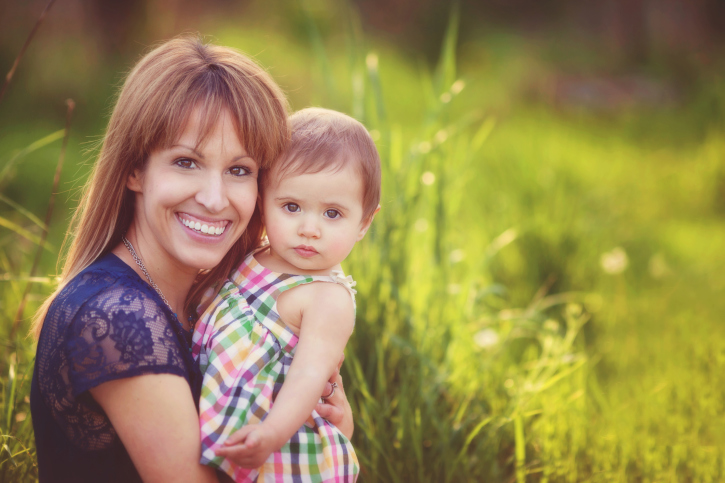 1
Spruce up your wardrobe
Last spring you were probably preggo and wearing maternity clothes. And, like most new moms, you might have found that motherhood can do a number on your wardrobe. Perhaps you've traded in your 4-inch wedges for sensible flats better for chasing around your little one. Maybe you're wearing less jewelry to avoid having your daughter yank on your earrings. Whatever the reason, your wardrobe probably looks and functions a lot differently than it did pre-baby.
Give your closet a little spring-cleaning and get rid of anything that doesn't work with your current lifestyle. Chuck items that don't make you feel fabulous in your post-pregnancy body.
For the last year, life has been all about welcoming your little one into the world. Now it's time to focus on you. Indulge in a fun spring trend for yourself. Buy a new shirt in a fun floral pattern, give yourself a manicure using a trendy pastel color or pick up a shade of pink lipstick.
3
Get an outdoor family photo
The first year of your baby's life can fly by in the blink of an eye and even though you've taken a gazillion snapshots with your iPhone, it's nice to have a few professional family photos to document major milestones. If the only family photo you have is from your newborn photography session, take advantage of the gorgeous spring weather and book a photo session outdoors, preferably in a location with beautiful spring blooms.
4
Eat fresh, seasonal food
During the newborn stage, it sure is nice to have prepared frozen casseroles and hearty dishes available for when you're hunkered down for winter, but now you can start picking up fresh seasonal vegetables again.
If your infant is starting to eat table food, he or she might like playing with new foods too. Take a trip to the farmer's market or grocery store and pick up spring veggies like asparagus, carrots, lettuce and peas.
Eating more fresh foods can also help drop those pesky extra pregnancy pounds that are hanging around.
5
Go for outdoor strolls
There's only so much mall walking one can do. Thankfully, the warmer weather means you can take Baby for long stroller walks outdoors again. Combine a stroller walk with a play date and meet another mom friend at the zoo. The little ones can look at animals and you can get some much-needed sunshine walking around the park. If you're lucky, you might even spot some adorable baby animals born in the spring.
Photo credit: sarahwolfephotography/Flickr/Getty Images
More tips for new moms
How to split baby duty
Date night out with Baby
Baby proofing spots you may have missed