Choking Hazard For Your Little Ones
Close to 100,000 baby rattles and bunny toys have been recalled by Vera Bradley. If you have one of these toys, you'll want to check out this recall.
Vera Bradley is recalling 98,000 Bear Ring Rattles and Bunny Stuffed Toys due to a choking hazard.
Product descriptions: This recall focuses on all Vera Bradley stuffed animal toys. The bear ring rattle has a white teddy bear head and an O-shaped body with arms attached. The rattle features a green, blue, brown and pink crisscross pattern and it measures around 4-1/4-inches in diameter. There are three bunnies included in the recall and each is around 10-inches tall. Each stuffed animal has a white pom-pom on the back for a tail. They are marked with a tag that says "Vera Bradley" and include the following serial numbers:
Bunny Lola: 007590013357145
Bunny Lillie Bell: 0000630012803140
Bunny Tutti Frutti: 0000630012803142
Bear Ring Rattle Lola: 007590013234135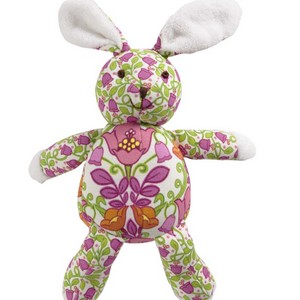 Photo credit: USCPSC
Where/when they were sold: These recalled toys were sold at various retail stores and online from September 2012 to January 2014 for between $12 and $19.
Reason for the recall: Vera Bradley has received two reports that the pom-pom tail of the toys detached, which can be a choking hazard for children. No injuries have been reported.
What you need to do: Take the toys away from children and contact Vera Bradley for a full refund.
Company information: You can contact Vera Bradley toll-free at 888-855-8372 from 8 a.m. to 9 p.m. ET Monday through Friday and 8:30 a.m. to 5 p.m. ET Saturday and Sunday. You can also contact the company online at verabradley.com and click on "Product Recall" for more information.
More recalls
Recall: Cork Stacker toys from A Harvest Company
Recall: Infantino Go Gaga Squeeze & Teethe Coco the Monkey
Recall: Graco convertible toddler car seats