Bond With Other Pregnant Women
When you're experiencing pregnancy for the first time, you need someone to understand what you're going through. Bonding with another pregnant woman can be the perfect solution, but how do you pick up a preggo friend?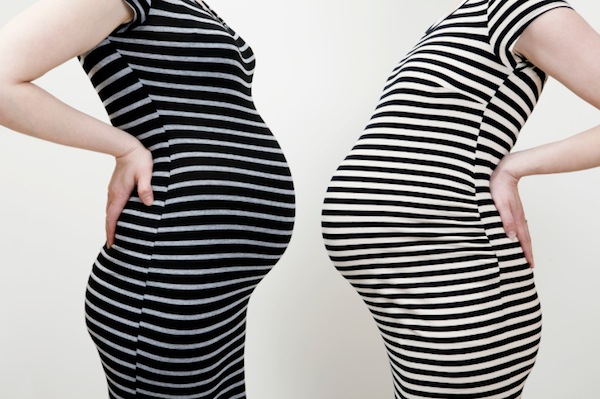 We admit it's kind of awkward to try to become friends with a random stranger just because you're both pregnant. So, consider some natural situations that might make things a little easier.
Prenatal yoga
In the name of staying fit while pregnant and making new friends, sign up for some prenatal/pregnancy yoga classes. Scope out the other students and start up conversation with some of the other ladies while you're waiting for class to start or setting out your mats. After some chitchat before and after a few classes, assess if you've really connected with any of the ladies. If so, ask one (or more) to grab a cup of decaf or a fruit smoothie after class and take it from there.
Lamaze, breastfeeding or baby 101 classes
Lamaze classes are not only a great place for you to get to know other pregnant women, but for your significant other to meet other dads-to-be as well. If you hit it off, you can enjoy some double dates before the babies arrive and then you can parlay your new friendship into sharing parenthood and watching your babies experiences all their firsts together.
Forums
If you prefer to connect with other pregnant women online, search forums for pregnant women or even topics that interest you such as exclusive breastfeeding, attachment parenting or free-range parenting. If you eventually want to meet up with the moms-to-be you're bonding with, search a local forum where the women meet up for fun outings and events on occasion.
Mom-to-be groups
Just as with mom groups, your community is probably rife with pregnant women's groups that help connect moms-to-be just like you. Do a little research online or contact a local pregnancy or parenting magazine in your area to see if they have any local resources to help find the right group for you.
Don't forget your non-pregnant friends
Just because your longtime best friend can't relate to your swollen ankles or incessant heartburn doesn't mean you to can't continue to bond during your pregnancy. The best part about a forever friend is that no matter what you're going through, she's there to listen to you, pick you up when you're feeling down and bring you chocolate in lieu of wine while you're abstaining.
More on pregnancy and mom friends
Who to turn to for pregnancy advice
Mom-emies: Is it time to make a change?
16 Reasons to use Lamaze during childbirth
Photo credit: Compassionate Eye Foundation/Digital Vision/Getty Images