Choriocarcinoma Led To Premature Birth Of Twins
A New York woman who was experiencing shortness of breath wound up delivering her twins prematurely and finding out she had a rare type of cancer.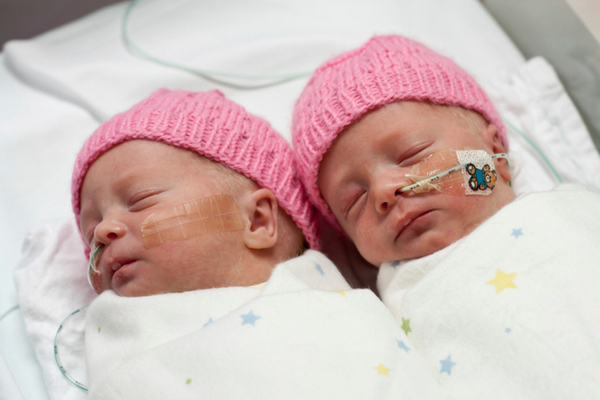 Photo credit: NolanWynne/iStock/360/Getty Images
Jenna Hinman was 31 weeks pregnant when she began to have serious trouble breathing. She was rushed to the hospital where doctors decided to deliver her twin girls. What they first thought was pneumonia unfortunately turned out to be a diagnosis of a rare pregnancy-related cancer called choriocarcinoma.
Preemie twins, rare cancer
Hinman was rushed to the hospital on March 3 because she wasn't able to breathe and she underwent an emergency C-section to deliver her twin girls, who were 9 weeks early. Azlynn Mary weighed 3 pounds 6 ounces and Kinleigh Ann weighed 2 pounds 9 ounces. She was able to get a quick glance at them before they were taken to the NICU and shortly after they were born, she took a turn for the worse.
Doctors initially suspected that she had a bad case of pneumonia, but tests revealed instead that she was suffering from choriocarcinoma. Choriocarcinoma is a rare type of cancer that usually begins in the placenta and is known to spread quickly, generally only striking pregnant women. Hinman was placed in a medically-induced coma, where she remains, as part of the effort to save her life.
A chest infection has complicated her situation and in addition to massive doses of chemotherapy, she's also on an ECMO machine that removes blood from her body, oxygenates it and returns it — effectively bypassing her lungs so she has a chance to heal.
The family has established a GoFundMe campaign to help out with expenses that are piling up for the family. Her husband splits his time between his newborn girls and the bedside of his ailing wife as he hopes for the best.
More on pregnancy and birth
Baby's first breath comes 28 minutes after birth
Baby born healthy after unusual abdominal pregnancy
Welsh woman has surprise baby on the toilet