Ambient Noise Machines Could Damage Baby's Hearing
New parents often turn to sleep devices, which create ambient noise believed to help babies fall asleep. A new study suggests these machines could impair newborns' hearing.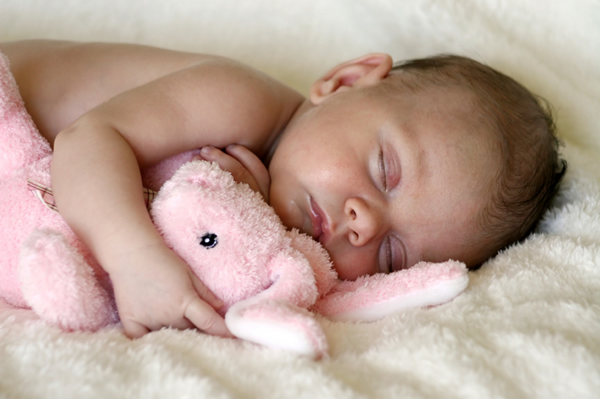 What's the harm?
If a sleep machine is designed to help Baby, shouldn't it be safe for him as well? You'd think so. But Blake Papsin, otolaryngologist-in-chief at the Hospital for Sick Children in Toronto and senior author of the study, which was recently published in the journal Pediatrics, found these machines can generate sound levels that could put babies at risk of developing hearing loss due to exposure to excessive noise. Furthermore, few or no instructions are included with these machines about the levels at which the noise should be limited to ensure Baby's safety.
Study details
According to USA Today, "Papsin and colleagues tested the maximum noise levels of 65 sounds in 14 different infant sleep machines when placed at three distances: 30 centimeters (11.7 inches — simulating placement on a crib rail), 100 centimeters (39 inches — simulating placement on a table near a crib) and 200 centimeters (78 inches — simulating placement across the room from a crib). Calculations were added to account for the size and development of a 6-month-old's ear canal."
The researchers found that all 14 sleep machines exceeded 50 decibels at both 30 centimeters and 100 centimeters, which is the current recommended noise limit for infants in hospital nurseries. All but one actually exceeded that recommended noise limit when placed 200 centimeters away and three sound machines produced sound greater than 85 decibels when 30 centimeters away.
The study hopes to ensure safety of infants' hearing by making sure that manufacturers of these devices are "required to limit maximum output levels, print warnings about noise-induced hearing loss on the machine's packaging and include a mandatory timer on machines marketed primarily for infants that would make them automatically shut off after a predetermined period of time."
Proceed with caution
Papsin notes that most the devices they studied did have a volume control and says those can be used in accordance with recommendations for hospital nursery noise. He also advises against using the machine on a nightly basis to ensure Baby's brain continues to receive the stimulation it needs to properly develop.
More on Baby's hearing and development
The importance of infant hearing screening
Yeah, mom — I hear you: Hearing in utero
Fetal development: What does baby really hear in utero?