Work Together
To Stay Well
Struggling to keep your infant or toddler healthy at school? Dr. Jack Maypole, pediatrician and member of the Educational Advisory Board for The Goddard School, is sharing tips for promoting wellness and minimizing illness in school settings.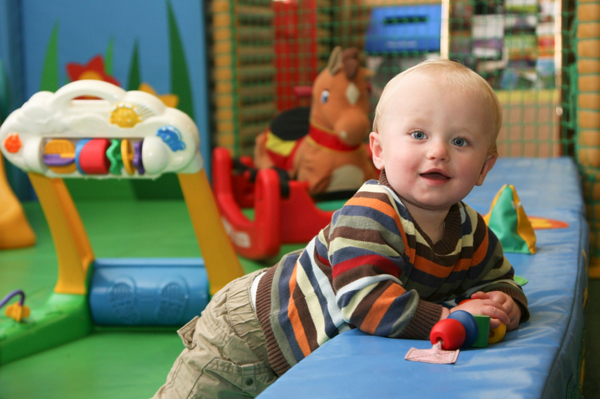 For parents who have an infant or toddler in a school setting or day care, keeping their baby healthy is top priority, especially during the colder winter months when the flu and other viruses are making their rounds.
According to Jack Maypole, M.D., member of the Educational Advisory Board for The Goddard School and director of the Comprehensive Care Program at Boston Medical Center, keeping your little one healthy in a school setting requires a group effort.
"For busy parents, this is a serious business," Dr. Maypole explains. "Infants and toddlers in school settings suffer viral illnesses upwards of 8 to 12 times a year — mostly during the colder months (that is a lot of boogers!)."
While it might be easy to shrug off symptoms of a virus as just another case of the sniffles — something expected in a day care or school setting — Dr. Maypole says illnesses can have a big impact on families.
"These 'viral syndromes' may require only some extra tissues or they may leave parents scrambling to cover days lost from school, work or both. What can parents do to promote wellness and minimize illness?"
Dr. Jack Maypole's tips for staying healthy
Be vigilant and communicate
Always, I recommend parents and teachers keep the channels open around their child's health, including times of illness in her classroom or in the household. Certain viruses, such as those that cause pinkeye, gastroenteritis or the flu may spread through classrooms like wildfire. Teachers may recommend, or families may opt, to keep children home if such illnesses arise and halt their spread. Additionally, honest and early communication may be a notice to some parents and allows potentially unwell children to be home for the care and support they need.
When to stay home
Certainly, it is no fun to have a cough or cold. Many children will have serial upper respiratory infections over the wintertime — annoying, but not dangerous. Per established health guidelines, it may be reasonable for a child to go to school with a cough and runny nose if they are otherwise well. However, more severe symptoms — such as fever, vomiting, diarrhea — may require that a child stay home until the symptoms have resolved for 24 hours (or unless cleared by their health provider). For parents who may be unsure about who to keep home and/or when to send a child back to school, I recommend they call and run their questions by their child's primary care provider.
A family member is sick: What to do?
As everyone knows, the littlest among us seem to be most curious and inquisitive when other members of the household are unwell or are particularly vulnerable, risking spread of whatever might be going around. Viruses can spread quickly, often by well folk touching droplets from sneezed or coughed upon items or people. Classic cases: The older sister with the gooey nose who wants to kiss the newborn or the 18-month-old who wants to climb onto a fluey parent (who is almost never in bed in the daytime!). What to do? I advise to parents: The best one can. If there is a household member laid low by illness, try to give them the benefit of quarantine, isolating them (but still attending to them!), keeping their toys or items separate from where others may roam.
Got hands? Wash 'em
As the growing body of research suggests, frequent handwashing may be the best way to limit the spread of infectious illnesses between household members. As the experts tell us, kids should learn to wash their hands for as long as it takes to sing "Happy Birthday." That way, they will be cleaner, healthier and festive!
Lastly...
All parents should consider getting a flu shot for all eligible members of their families. Since 2010, the U.S. has moved to recommending universal vaccinations for nearly everyone over 6-months of age, ideally as early as October (but the season lasts well into the spring). The vaccine is the best line of defense against the disease.
While influenza or "flu" may occur as a mild illness, it can be particularly nasty — or dangerous — in younger children or anyone with a complex or chronic illness (including diabetes, asthma, neurological problems or former premature infants). Flu infections cause up to 20,000 hospitalizations in children under age 5 each year. For most children, the flu vaccine is safe and offers cross protection against the different varieties that occur each season.
Starting this season, the flu shot can even be administered to children with mild egg allergy. For parents who may have questions or concerns about influenza vaccine, I recommend they read these free resources from the CDC: Key Facts of the Flu and The Flu: A guide for Parents and/or discuss the idea further with their child's primary care provider.
Then, pass the tissues. Make ready cozy beds and soup. Follow the above ideas and partner with your child's school to keep watch on your child's well-being. At times like this, sometimes I find this haiku is a nice way to underscore it:
Flu starts in kids first
Babies and sick kids at risk
Get the shot. Wash hands!
About Jack Maypole, M.D.
Jack Maypole, M.D., is a member of the Educational Advisory Board for The Goddard School. Dr. Maypole is a primary care pediatrician and the director of the Comprehensive Care Program at Boston Medical Center. He is also an assistant professor of pediatrics at Boston University School of Medicine. Dr. Maypole is a freelance cartoonist and lives with his wife and three children in Newton, Massachusetts.
More health tips for Baby
Don't take your sick baby to day care
Keep Baby sniffle-free when you're sick
Rock-a-bye Baby: Lullabies may help sick preemies