Another Son, Another Rockin' Baby Name
Gwen Stefani and Gavin Rossdale welcomed their third son on Friday and they gave him, as expected, a really cool baby name.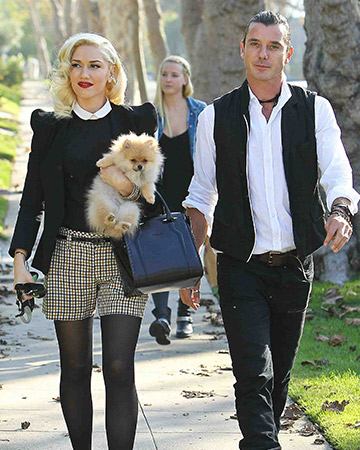 Welcome to the world Apollo Bowie Flynn Rossdale! Gwen Stefani's husband, Gavin Rossdale, tweeted the good news Sunday and he even fit a bit of info into his tweet about their little one's two special middle names.
Apollo has landed
Stefani, 44, and Rossdale, 48, announced their pregnancy in October, after a few months of speculation. But Saturday was the big day for the family, as it turns out. Rossdale's triumphant tweet went out on Sunday, telling the world about the baby's birth and giving a little inside info on his two middle names.
Apollo joins the family of two older brothers — a 7-year-old named Kingston James McGregor and a 5-year-old named Zuma Nesta Rock. Based on their names, a double middle name seemed to be the plan, so Stefani and Rossdale turned to their mothers' maiden names for inspiration. It just so happens that their mothers have really amazing maiden names — Bowie and Flynn. Rossdale also has a daughter named Daisy from a previous relationship.
Celebrity baby names
Celebrities get a lot of flak for the names their bestow upon their children. From Apple (Gwyneth Paltrow) to Speck (John Mellencamp) to Blue (Beyoncé) to Banjo (Rachel Griffiths), celebrities often like to push the boundaries when it comes to picking a baby name. But baby name shaming isn't exclusive to the rich and famous. When you named your baby, did your friends and family have any opinions?
Check out Rossdale's tweet here:
@gwenstefani welcome APOLLO BOWIE FLYNN ROSSDALE ❤️❤️❤️ 2/28/14 ❤️❤️❤️ (bowie and Flynn =mothers' maiden names )

— GAVIN ROSSDALE (@GavinRossdale) March 1, 2014
Apollo's name is certainly unique, but I'm betting his grandmothers think it's the bomb, especially when combined with his two familial middle names.
More celebrity babies
Gwen Stefani has baby shower for third baby
Simon Cowell and Lauren Silverman welcome new baby
Model Doutzen Kroes announces second pregnancy
Photo credit: WENN.com