Cork Blocks Pose A Choking Hazard
If you were part of the Stork Stack subscription service and received the Cork Stacker toys in your January 2014 box, they are part of a recall.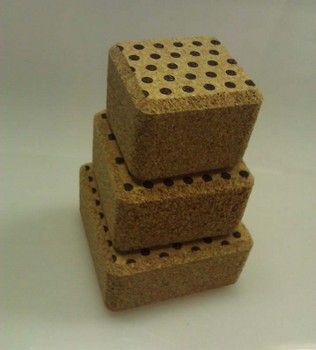 Due to a choking hazard, A Harvest Company has recalled approximately 720 sets of their Cork Stacker toys, which were sent out in the January 2014 Stork Stack subscription box. Do you have these toys?
Product description: This recall focuses on a three-piece set of cork blocks that were labeled for children ages 6 months and up. Each block is a different size and all of the blocks are 1-1/2 inches tall. Each block has black dots on the top.
Where/when it was sold: These recalled cork block sets were sold exclusively at StorkStack.com during January 2014 through their Stork Stack subscription. The cost for the entire subscription set was around $30 for five products.
Reason for the recall: Small pieces of the cork material can break off, which poses a choking hazard for babies and small children. A Harvest Company has received seven reports of pieces breaking off and two reports of children mouthing the pieces. There have been no injuries reported yet.
What you need to do: Remove these toys from children and contact A Harvest Company to learn how to return the block sets and receive a merchandise credit.
Company information: You can contact A Harvest Company toll-free at 877-394-7774 from 8 a.m. to 5 p.m. ET Monday through Friday or visit their website and click "Cork Stacker Blocker Sets Recall" for more information.
More recalls
Recall: Infantino Go Gaga Squeeze & Teethe Coco the Monkey
Recall: Graco convertible toddler car seats
Recall: Britax B-Agile, B-Agile Double and BOB Motion strollers
Photo credit: USCPSC