Swaddling Ease At The Touch Of A Button
Wait, a smart swaddling blanket? Yes! SwaddleDesigns has an exclusive label that can help you swaddle, soothe and parent your baby.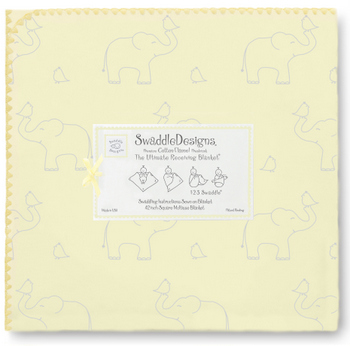 SwaddleDesigns has developed a swaddling blanket that has a nifty secret built in — a QR code sewn to the label that opens up white noise, swaddling instructions and even baby care videos, right on your smartphone.
Right at your fingertips
The SwaddleDesigns swaddling blankets are the only swaddlers with instructions for swaddling sewn on the blanket itself. Now, they've taken this a step further and created a unique QR code that is also sewn on. Moms and dads can quickly scan this code with a smartphone and access a variety of valuable information — all provided free.
White noise: There is a fabulous library of white noise sounds that can sooth your baby as she goes to sleep. There are a number to choose from so you can find the perfect sound that works best for your little one.
Swaddling instructions: In addition to swaddling information, parents can access how-to videos on their phones. Brilliant and so easy!
Dr. Harvey Karp: Renowned pediatrician Dr. Harvey Karp, author of the best-selling book and DVD The Happiest Baby on the Block, provides his expertise in a series of short baby care videos.
Our take
We received a beautiful yellow Ultimate Receiving Blanket (SwaddleDesigns, $25) to check out and was totally impressed. The blankets are generously sized at 42-inches by 42-inches and are deliciously soft. Yellow is one of my favorite colors, too — as a gender-neutral shade, it makes a great gift for any baby on your shopping list. This blanket is not only perfect for newborns and infants, but it can be used for years, as a floor blanket, a nursing cover, a sun shade and a nap blanket as your baby grows up. My 4-year-old loves to cuddle up with it too! I had no trouble swaddling up a friend's newborn baby who, to no surprise, fell right to sleep.
I checked out the selections available in the SwaddleClub and I adore them. It's so nice to not only have the swaddling information at your fingertips — literally — but the white noise options are awesome and I love the variety. They have been selected to cater to your baby's needs, such as a strong hair dryer noise that can actually work to calm a frantic baby, and rhythmic womb sounds to soothe her to sleep.
I absolutely recommend the SwaddleDesigns smart swaddling blanket.
SwaddleDesigns supplied a blanket for review, but the recommendation is my own.
More awesome baby products
babyGap introduces new line
Review: Out of Print Clothing
4 Eco-friendly diapers to cover baby's bottom