Twin Moms Lead
Parallel Lives
How cool is this? Identical twin sisters not only found out they were pregnant on the same day, but they also delivered their babies on the same day.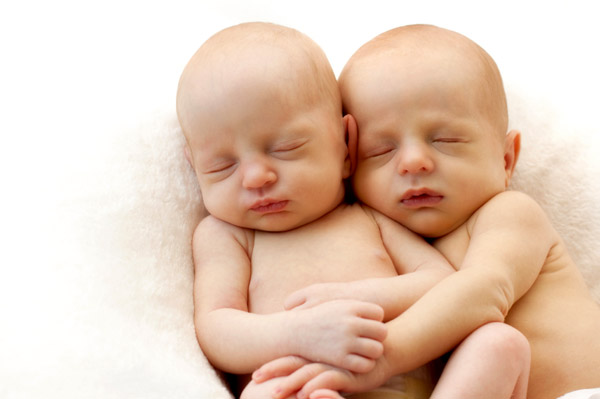 Heather Richardson and Sarah Fidler not only look alike, but their lives are very similar. They grew up together, went to the same university and also have the same jobs. Now, they can add another novel event to their shared history — they gave birth on the same day.
Cousins with the same birthday
Richardson and Fidler discovered that they were pregnant on the same day (they both used pregnancy tests from the same pack, how funny!), but the women were given different due dates, which seemed to end their extensive run on coincidences. But Mother Nature had a surprise in store for them. Richardson underwent a C-section and soon after her baby was born, her twin sister began having contractions. Approximately 13 hours later, that same afternoon, she gave birth to her baby, giving the newborn cousins a fun special bond — the same birth date.
Richardson had a baby girl she named Emelie and Fidler had a baby boy she named Austin. Of course, the twin sisters' dad is pleased to become a grandpa twice in one day and both babies will have their grandmother's name represented in their middle names, as she passed away four years ago.
They report that it feels like they had twins themselves. "Not only do I have a son, but I have a daughter as well," said Fidler.
Recovering together
They are now recovering together in the same hospital, which of course has caused some confusion amongst the staff, who reports that they can't remember identical twins ever having babies at the same time.
What a sweet story for this family, but I have to say, I can't imagine being transferred to another hospital for postnatal care. I wonder how common that is in the UK or was it because they wished to be together during this special time? When my first baby was born, 18 years ago, the concept of a single labor, delivery, recovery and postpartum room (LDRP) was pretty new, but even now, some women give birth in one room and are moved to another to recover. I've never had to experience that, but what a pain it would be to have to move around when you just want to chill out with your newborn baby.
More fun birth stories
Atlanta woman gives birth on gridlocked highway
New Year's twins were born in different years
Special delivery at Barnes & Noble