Sneaky Things In Your Home That Can Harm Your Baby
You've got the cabinets on lock down, the electrical outlets covered and a baby gate at the top and bottom of the stairs — but you're not done baby proofing yet! Make these other spots in your home safe for baby too.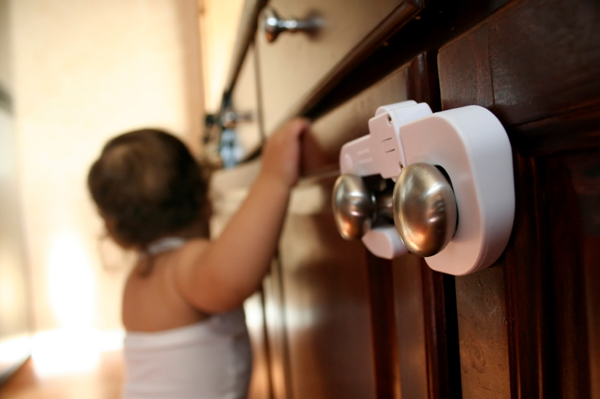 The bathroom
Aside from locking the medicine cabinet, which is too high for Baby to reach now, but may not be in the very near future — especially if you have one that loves to climb — there are many potential dangers in the bathroom.
Bath faucet cover: A soft bath faucet cover can prevent your baby or toddler from knocking his noggin on the hard (and sometimes sharp) water faucet.
Toilet seat lock: Having a lock on your toilet seat cover will not only prevent Baby from inadvertently drowning in the toilet bowl, but it will also save you from losing your keys, wallet or anything else important that a precocious toddler feels like flushing.
Family/great room
You've covered those outlets and cleared the tchotchkes from the bookshelves, but there is still more to be done here...
Television: Flat-screen televisions can pose a serious danger if they are not mounted properly. If Baby simply reaches out to it for support when he's learning to walk, it could fall and seriously injure him. It's important to have the back of the screen mounted to the wall and the TV stand. You can do this yourself by purchasing straps that attach to to the back of the TV.
Wall-mounted shelves: It's also good idea to go ahead and have any shelving units mounted to the wall. Ensure that the weight of items on the shelves are fairly evenly distributed, with most of the weight at the bottom. You don't want the shelf to be top heavy.
Kitchen
Aside from the usual suspects, like putting locks on the cabinets, oven knobs and the trash compactor, there are a few more things to consider in the kitchen.
Unplug appliances: Always keep countertop appliances like your coffee maker, blender and toaster oven unplugged. In the event that your baby is able to get up on the counter and starts pushing buttons, at least he won't be able to start any appliances (assuming you've covered all the electrical outlets here, too!).
Give up on glass: For now, at least. When I welcomed my children, I said good-bye to glass for a while. We keep our china and glassware far out of reach and we have an entire low-to-the-ground cabinet filled with all of the plastic bowls and cups our kids could ever need. Now that they are a little older, they can help themselves to their own serving ware — when they were younger they loved to stack them while I made dinner.
More on baby safety
The safe nursery: Choosing safe baby toys
Safe co-sleeping
Baby home safety tips: Poison-proof your home