Celebrate Your New
Baby With Love
Whether your baby was born just a few days ago or nearly a year ago, today marks his first Valentine's Day. These ideas will help you celebrate the day with love.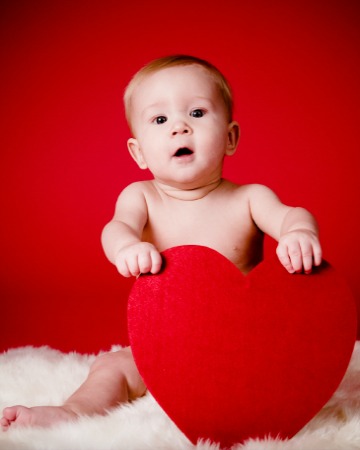 Who says Valentine's Day is just for romantic grownups? Even the youngest babies can, and do, feel love and even if she won't remember today, there are a few things you can do to help commemorate her first Valentine's Day.
Take photos
You probably already take plenty of photos, right? Even if you're not up for visiting a portrait studio or hiring a professional photographer, it can be fun to snap a few Valentine's Day-related pics of your little one today. It can be as simple as incorporating a red outfit (or a red cloth diaper) into a photo or propping him up against a red blanket.
Give him a Valentine
No, your baby can't read and he may not even do so much as glance at it, but giving him a Valentine is a perfect baby book addition. Write a little note about how you feel for him and maybe your hopes and dreams for his future.
Plan a romantic dinner
Just because you have a baby, it doesn't mean you and your partner can't have a romantic dinner. You don't have to go out or even do a ton of cooking. Arrange for takeout from your favorite restaurant or throw something in the slow cooker early in the morning. Turn off the lights, spark a few candles and enjoy your meal. Your baby can easily be part of the fun as you share a meal at home.
Shower your baby with love
This day is all about love, of course, so make sure you keep loving your baby like you have been since she was born. You don't need to go through a short history of Valentine's Day to show your little one what today is all about — just do what you normally do and love on your baby as you do best.
More Valentine's Day fun
Valentine's Day outfits for your lil' sweetheart
A Valentine's Day play date idea for your mommy group
Valentine's Day faves for babies and toddlers