The Best Day And
The Worst Day
The story of a brain dead pregnant woman in Canada has opened a new chapter while closing another, as her baby was born on Saturday and she passed away on Sunday.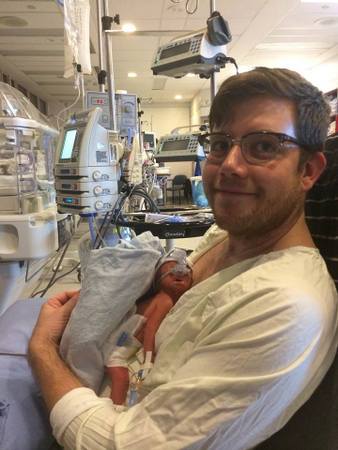 In the short span of a few weeks, two stories of pregnant women suffering from brain death have captivated our minds and our hearts. Aside from the women's statuses, the cases were quite different.
Two heart-wrenching cases
One story, out of Texas, sparked debate as her husband wished for her to be taken off life support — a wish that she shared with him when she was still alive — a wish that was contradicted by state law which stated that pregnant women are not allowed to be removed from life-sustaining treatment. The mother-to-be, in that case, had suffered from an extended period of time without oxygen and her fetus was later determined to have severe issues. A judge eventually ordered her to be taken off of life support, according to her husband's wishes, and she was allowed to pass away.
The other story, however, featured a pregnant woman whose husband wished for her to remain on life support in hopes that his child would survive. Dylan and Robyn Benson were expecting their baby, a boy they had named Iver, but at 22 weeks, she suffered a cerebral hemorrhage and was declared brain dead shortly after. They decided to try to bring her to 34 weeks of pregnancy, so the baby would have the best shot at life. Sadly, on Saturday, they had to go ahead and deliver him at only 28 weeks and 1 day. Iver was born in generally good health and his mom, Robyn, passed away the following day.
Dylan released the following statement on his Facebook page:
Dear friends and family,
It is with a heavy heart, but also with extreme proudness, that I am posting this update...
On Saturday evening, my beautiful and amazing son, Iver Cohen Benson, was born. Iver is healthy and is the cutest and most precious person I have ever met. As to be expected, it will still be a bumpy ride for he and I as he continues to grow under the care of the wonderful staff at the hospital.
On Sunday, we had to unfortunately say goodbye to the strongest and most wonderful woman I have ever met. I miss Robyn more than words can explain. I could not be more impressed with her strength, and I am so lucky to have known her. She will live on forever within Iver, and in my heart.
Thank you to each and every one of you for your love, your kind words, and your support during this incredibly difficult time.
More births in the news
Another identical triplet birth reported
Oh baby! 13-pound baby born in Spain
A breech birth on the side of a highway