No Mom Jeans Here
As a new mom, it's easy to get overwhelmed with parenthood. That's no excuse to hang out in jammies or — worse yet, mom jeans! — all day. Pull off a practical yet fashionable look every day.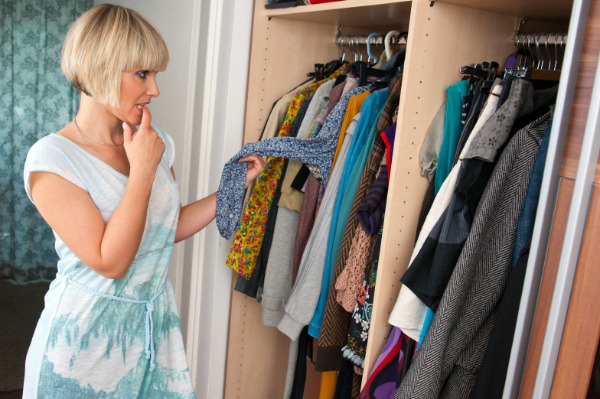 Leggings and tights
We totally get that you might not feel comfortable getting back into your skinny jeans quite yet. And we're here to tell you to take your time when it comes to dropping the baby weight and getting back in the gym. However, you don't have to forsake fashion when you're a little puffier than usual. Luckily, leggings and tights are still really in — and paired with a forgiving loose, long tunic or cute dress and flat riding boots, you'll be ready for anything in your day from taking baby to music class to grabbing groceries.
A cute hat
There are so many adorable hats, headbands and hair accessories that there is no excuse to rock a dirty old baseball cap unless you're actually at a ballgame. Braids and ponytails are still "in" so you can get away with not rocking a blowout every day. Let's face it, a full shower, complete with a hair wash, is simply a luxury that may not happen often now that you're a new mom.
Workout clothes... sometimes
If you're truly heading to the gym at some point throughout the day or are not planning on leaving the house, it's OK to rock your workout gear. However, I suggest not making workout clothes your go-to outfit for getting out and about. I'm speaking from experience here. I rocked my yoga pants (without any intention of going to a yoga class) for a bit too long after my kids were born. I now make a conscious effort to get dressed — even if it's just in a cute fitted T-shirt, jeans and sparkly TOMS or classic white Converse tennis shoes — every day.
Dress for you
I began dressing better, post-baby, not for anyone I would see at school drop-off or the grocery store or even for my own husband (though I know he's noticed and appreciates the change). I did it for me. It felt good once my kids got a little older to put a little time and effort back into myself because when they were infants and toddlers, I gave every bit of myself and my time to them. I still do — but I do it while being proud of the way I look! It's a little thing, but I think that moms need to take time for themselves. I wish I had done it more as a new mom but I'm learning to now — and you should, too! Whether it's taking a little time to focus on your outfit or your appearance, or taking the time to nourish yourself properly and exercise, moms need time for themselves.
More for moms
12 quick fashion tricks for the working mom
Real moms weigh in: Is being a mom harder than you thought?
8 quick fashion tips for new moms