Lil' Valentines
Celebrate your first Valentine's Day with baby by giving your mommy playgroup a little V-day flair. Entertaining expert Rachel Hollis is sharing her tips for throwing a Valentine's Day party for your mommy and baby friends.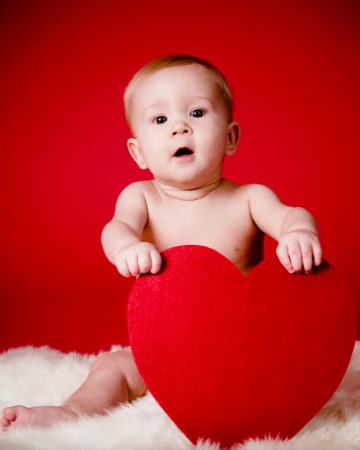 Pre-kiddos, your Valentine's Day was probably all about chocolate, extravagant dinners and romantic gestures.
Then you had a baby.
Now V-day might look a little different.
Instead of focusing on the romance factor of Cupid's holiday with your partner, you might find yourself wanting to celebrate a more family-friendly version that includes your newly expanded circle.
Need an idea of how to celebrate?
Throw a Valentine's Day Party for your mommy and baby friends!
To help you prepare for a Valentine's-themed play date, we have tips from Rachel Hollis, Celebrations.com expert, mother, founder of Chic Events in Los Angeles and Editor-in-Chief of The Chic.
See how Rachel spends Valentine's Day with her kids here.
Valentine's Day play date ideas:
Courtesy of Rachel Hollis, Celebrations.com
Invites
Given that Valentine's Day is around the corner, let your mommy friends know that you would like to host them for a LOVEly play-date on February 14th by sending a free, digital invitation. Check out the Love is in the Air Invitation by Celebrations Designer, Lisa Tucker. The Celebrations platform offers a free event webpage personalized for your party, tracks RSVP's and sends reminders.
It's an intimate holiday, so keep the size of the group as such. Invite approximately 10 to 12 guests and you can probably count on 6 to 8 to join you.
Mommy & Me Activities
Even though moms will want 'girl time' at some point, be sure to have some 'mommy and me' activities planned with the toddlers. Not only will it show kids that you love them, but it will teach them about basic skills such as sharing and playing together with other kids in varied age ranges. Try these for starters:
DIY Valentine's: My family is definitely the kind of make your own crafty Valentine's Day cards, as there's nothing like a homemade piece from the heart! I have some really fun, crafty Valentine's for Kids on my site TheChicSite.com that include basic materials, items from the home and candy.
Cheryl's Cutout Cookie Decorating Kit: When I'm in a time crunch for children's parties and activities, I look to Cheryl's for their fun cutout cookie decorating kits. It offers sweet treats and a fun activity all-in-one delivered to your door! You may have to choose expedite shipping this week for Valentine's -- but it's so worth it.
Movie Time: After you've spent enough time playing cupid, whether they are young enough for a nap or old enough to be entertained by a movie, throw on Be My Valentine, Charlie Brown or a Disney classic such as Beauty and the Beast. Both films stay on the topic of love, friendship and chances are it will give the moms their "me time!"
Lunch Time for Mommies
While the kids are doing their thing snacking and watching movies, offer your guests a smoothie and/or root vegetable salad. It's a yummy, healthy option in addition to all that sugar you may have enjoyed during craft time. Try making your own smoothies at home...all you need is a really good blender - from tropical mango to mixed berry - it's a simple, refreshing treat for your friends.
During the winter months, it's all about the warm salads! Go with a roasted root vegetable salad. Your guests will thank you, as they will presumably be eating chocolate to celebrate in the evening.
More Valentine's Day ideas
First Valentine's Day with baby
Valentine's Day faves for babies and toddlers
6 Valentine's Day photo cards we love