Think You Don't Have Time To Exercise?
Even though many new moms struggle to find time in their busy day to work out, returning to your pre-pregnancy exercise routine is a great way to give yourself some much-deserved me-time and to help you regain your body confidence.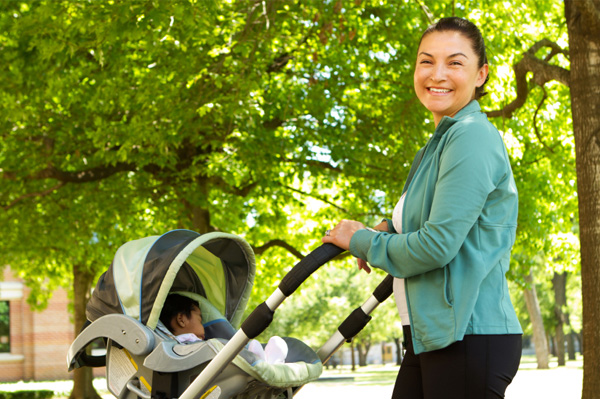 Wake up before baby
For so many moms, the secret to working out post-baby is to rise and shine before their little ones. Pop in a yoga DVD, sign-up for an online exercise program like DailyBurn.com, jump rope on your patio (with baby's monitor at the ready, of course) or bounce on a mini-trampoline in your bedroom. Working out at home is definitely possible and there are many options for mini-workouts that can be accomplished in 30-minutes or less. Setting your alarm clock a bit earlier each day won't seem that bad, but the changes you can make in your body in that time each day will definitely be noticeable!
Work out with baby
If you can't seem to make time to work out without baby in tow, let him join you! Find a mom and me yoga class in your neighborhood, sign up for Stroller Strides — a group exercise program that incorporates your baby and his stroller — or simply strap baby into his carrier and go for a brisk walk. If it's too cold outside, walk around an indoor shopping mall to log some miles without subjecting your little one to the harsh elements.
Find a gym with childcare
Many gyms now offer childcare while you get your exercise in. Understandably, dropping your baby off in a gym day care can make any new mom nervous and it may not work out every time you feel the urge to sweat. Don't give up if baby doesn't love it the first few times. He will grow accustomed to spending time there, just as you will feel more comfortable dropping him off there after the first initial visits. Before committing to a gym with a childcare center, visit with the staff and ask questions to ensure you feel comfortable leaving baby in their care while you sweat it out.
Forgive yourself
If you just can't squeeze in your workout one day, don't get down on yourself or give up. Commit to a routine and do the best you can to stick with it most days.
More on post-pregnancy fitness
Finding a fitness routine after baby
Get motivated to lose postpartum pounds
How to safely lose weight while breastfeeding