Red Carpet, Maternity Style
See which celebrities glowed on the red carpet of the 2014 Golden Globes with their super-chic pregnancy style.
They dazzled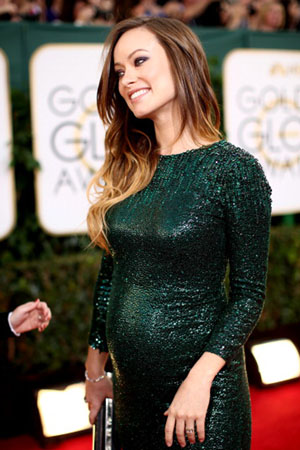 A super-chic and pregnant Olivia Wilde was simply radiant at the 2014 Golden Globes. Wilde, who is expecting her first child with funny-man, fiancé Jason Sudeikis, rocked a form-fitting emerald green Gucci dress with a hemline that skirted the floor. Minimal accessories and low-key hair kept the attention on the dress — and how fabulous Wilde looked in it.
I'm also obsessed with Wilde's ombre hair since it shows how preggo ladies can stretch fading hair color while they wait to get roots touched up after the first trimester.
While on the red carpet, Wilde revealed her due date to host Ryan Seacrest saying, "May the fourth be with you," a Star Wars reference for her May 4 due date.
They glowed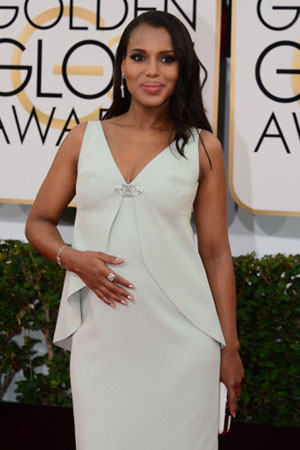 Actress Kerry Washington finally confirmed her pregnancy at the 2014 Golden Globes. The stunning mom-to-be wore an elegant floor-length custom Balenciaga gown. Not only was the subtle mint green color right on-trend in one of fashion's current hottest hues, the light color looked stunning with her gorgeous skin.
Rather than going for a form fitting gown, Washington opted for a softer look that highlighted her beautiful bump while allowing for some comfort.
White accessories finished off the bright and clean, award-worthy outfit.
They were feminine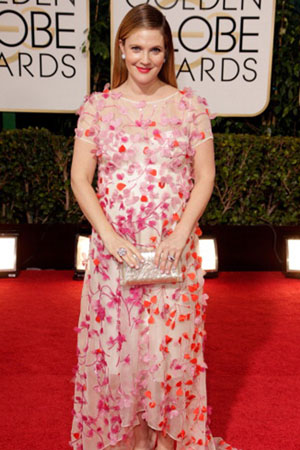 An expecting Drew Barrymore walked the red carpet in a colorful Monique Lhuillier gown. The airy gown from Lhuillier's Spring 2014 collection had flutters of color in shades of red and pinks. Barrymore accented the hot hues with bold lips and fierce crimson Roger Vivier Epine pumps.
While critics said Barrymore's dress didn't flatter her pregnant body, I actually really like this look on her. It's soft, playful and fun. She looked gorgeous.
More pregnant celebrities
Jennifer Love Hewitt has baby girl
Ginnifer Goodwin pregnant; tweeting excitement with her Prince Charming
Celebrity baby weight: Who dropped it fast, who took their time