Eat Healthy On The Go
Eating healthy can become a task for busy moms who are constantly on the go while taking care of their brood. With a little forethought, you can avoid a trip through the drive-thru.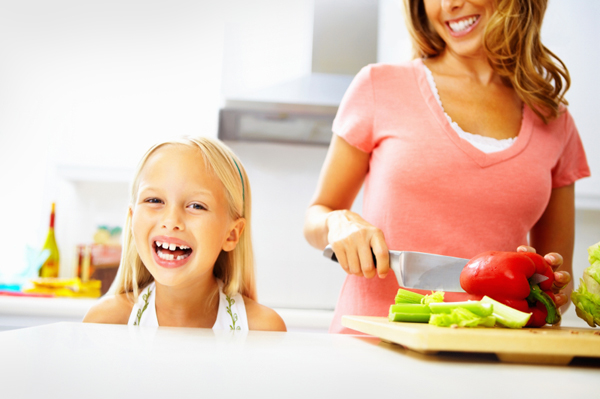 Pack it the night before
You take the time to make your lunches for your children, right? Why not show yourself the same love? If you can brown bag it to work, you will save time and money. Plus, you are in charge of portion-size and nutrition when you pack your own lunch. If the mornings are too hectic, pack it the night before. Save some leftovers from that evening's dinner, pack a salad or wrap with protein boosters such as hard boiled eggs, beans or slices of grilled chicken for a lunch that's easy to eat an healthy.
Keep snacks handy
If you're constantly on the go, pack snacks that do not need to be refrigerated. Try single servings of almonds, sunflower or pumpkin seeds, roasted chickpeas, fruit that doesn't need to be cold, such as apples, bananas and oranges or homemade oat bars.
Even if you're home with a new baby all day, you may not have time (or free hands!) to make yourself a healthy lunch. Wash and slice veggies in advance and keep hummus or other protein-rich bean dip on hand so that you can grab it when you feel your tummy start to grumble.
Sip yourself healthy
If you don't have time to sit down for a meal, sip it instead. Make a smoothie that is packed full of fruits and even veggies, like kale and spinach, for a healthy and nutritious breakfast or snack. As a lunch or dinner alternative, put homemade soup in a container that will stay warm until you're ready to slurp away.
Try to avoid canned soups and pre-made smoothie drinks, as they may be loaded with unwanted ingredients. If possible, make your drinkable meals at home, ahead of time. Investing in a good blender or juicer can make easy work of homemade vegetable soups and smoothies.
Make smart choices
If you have to stop at a fast food joint for a quick lunch, don't subject yourself to a fried fiasco for your meal. Make smart choices by opting for a grilled chicken sandwich on a whole grain bun (if available) with a small side salad (ask for a light vinaigrette versus fat-laden ranch dressing) or fruit instead of a burger and fries.
More on eating healthfully
Food for mom: The dos and don'ts while breastfeeding
10 Snacks to help you lose the baby weight
Shed the baby weight on the cheap