Dec. 31, 2013, And Jan. 1, 2014
These newborn girls are twins, but they don't share the same birthday or even the same birth year.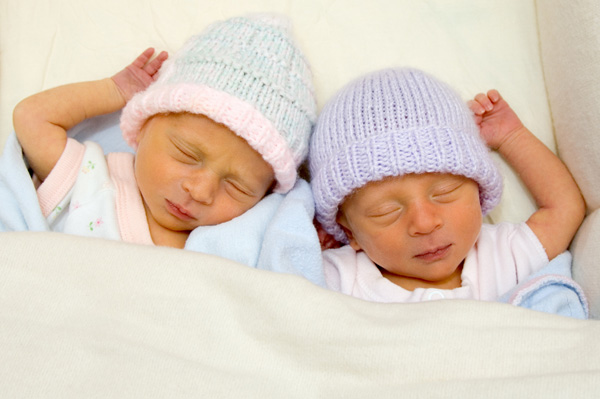 A Canadian mom had a pair of remarkable twins this New Year's holiday — one was born just before midnight on Dec. 31, 2013, and the other waited until the next year to make her appearance.
Twin girls
Twin deliveries are often separated by a matter of minutes and in some cases, even more time passes from when the first baby makes its appearance to when the second baby arrives. However, Lindsay Salgueiro couldn't have timed her babies' deliveries more perfectly. Her first baby, named Gabriela, arrived before midnight, weighing exactly 7 pounds. Her little sister, Sophia, was born 38-seconds after midnight, weighing 5 pounds and 15 ounces.
While it's not common for twins to be born on different days, it's not totally unheard of. However, twins being born in separate years is a little more unusual.
Interestingly enough, Sophia wasn't the first baby born in 2014 in the Greater Toronto Area — two other babies were born exactly at midnight.
For Salgueiro and her husband, they are simply happy to have their babies with them and eager to return home as a family of six (they have two boys already). The fraternal twins were born a few weeks early, which isn't uncommon for pregnancies with multiples. Despite having a due date that hasn't even arrived yet, Jan. 19, 2014, both girls are in good health.
I was reading through the comments on the original article and was interested to see that there is a possibility that the girls will be in different grades, as the area where they live allows junior kindergarten admission for children who are 4 years old by Dec. 31. But surely that doesn't mean it's required. I would think the Salgueiros would elect to register them both together the same year, "holding back" Gabriela a year to allow her to be in the same grade as her slightly younger sister.
More awesome birth stories
Boxing Day baby: Surprise delivery on kitchen floor
60-year-old woman gives birth to twins
Couple drives through ice storm to give birth by flashlight