Staying Up Till Midnight? Pfftt...
Is it your first New Year's Eve as a new parent? Forget partying 'till the wee hours of the morning mama. We're sharing realistic ways to ring in the new year.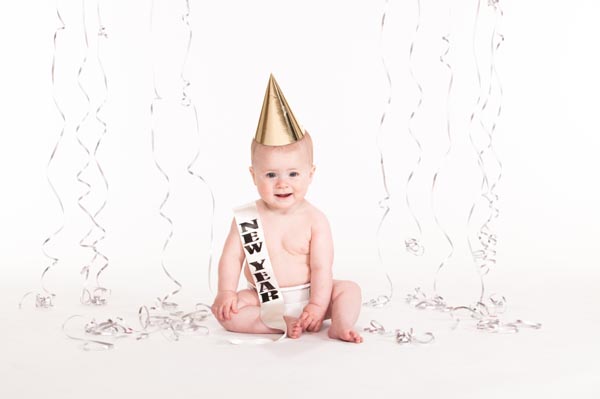 Pre-baby I used to love New Year's Eve. My husband and I used to go out for an early fancy dinner, leisurely review our favorite memories of the past year and bring in the new year with champagne buzzing in our ears.
Now? We'll be lucky if we can stay up till midnight amidst our current sleep-deprived state as new parents.
Even if we weren't chronically exhausted and were able to actually avoid the siren call of cozy jammies before 9 p.m., finding a babysitter on New Year's Eve is about as easy as finding a magical unicorn in the middle of an enchanted forest. Not very likely.
Instead, we're faced with the fact that partying on New Year's Eve, like other pre-parent traditions, will look a little different going forward.
This transition actually happened last year when I was preggo. I swapped my champagne for sparkling cider and traded a glitzy sequined party top for cozy bump-accommodating sweats. Pregnancy fatigue meant I was sleeping on the couch most of the night and my hubby woke me up 30 seconds before midnight so I could drowsily call out "Happy New Year" before resuming my peaceful snores.
And truthfully? In between traveling for the holidays to celebrate "Baby's First Christmas" with all our relatives, we're ready for a little quiet time.
Here are a few ideas for celebrating New Year's Eve when you're a new parent:
Think noon, not midnight. Celebrating New Year's at midnight? Pfftt. That's so old-school. Take a cue from Carinn Jade who started a new tradition with her husband to celebrate New Year's Eve at noon on December 31st. You'll be more likely to snag a babysitter during the day, it's less expensive to go out and you can enjoy your bubbly with a little fresh-squeezed O.J. for brunch.
Go global. Who says you have to celebrate at the stroke of your midnight? If you're still in major sleep-deprivation mode as a new mommy, ring in the new year with a different county in a different time zone. And, while you're at it, pick up a few unique New Year's Eve traditions too.
Party on New Year's Day. Is your sitter impossible to get on New Year's Eve? Try booking her for New Year's Day and live it up by splurging on a fancy dinner while the rest of the world is recovering from a massive hangover.
Think family-friendly. Still want to party with friends? Invite a few of your mommy/baby buddies over for an earlier get together. Splurge on a babysitter that can look after your kiddos so you can enjoy some adult conversation. Have a few "mocktails" on hand for family-friendly fun without the booze.
Tell us: How will you be ringing in the New Year?
More ideas for New Years
New mom New Year's resolutions
New Year's resolutions when you have a new baby
Celebrating New Year's Eve with a baby in tow