Fork And Spoon Sets Pose Choking Hazards
Cubetensils has recalled their fork and spoon sets because their unique handles pose a choking hazard for infants and toddlers.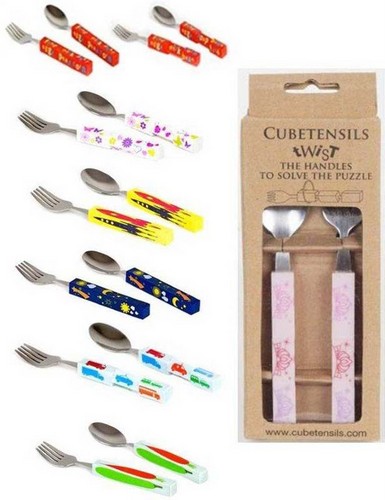 Over 1,000 sets of Cubetensils eating utensils have been recalled because, even though they were marked for and designed for children over 3 years of age, they have a design that can be a choking hazard for little ones.
Product Description: This recall focuses on Cubetensils children's fork and spoon sets from Edoche. The sets contain a matching spoon and fork featuring a stainless steel head and a plastic handle. The handles are unique as they rotate to create different shapes. They were sold in seven different designs: Alphabet, moon and stars, nature, princess, rockets, trucks and veggies.
Where/when it was sold: These recalled utensil sets were sold at major retailers and specialty stores nationwide, as well as online at Amazon.com and ebay.com from May 2012 through November 2013 for around $8 a set.
Reason for recall: There have been no injuries reported, but there has been one report of a handle detaching and a baby placing in it his or her mouth.
What you need to do: Consumers should immediately take these utensils away from children and contact Edoche for a full refund.
Company information: You can contact Edoche by calling collect at (774) 295-0170 from 9 a.m. to 5 p.m. PT Monday through Friday or online at www.edoche.com then click on "About Us" at the top of the page for more information. Customers can also send an email to info@edoche.com.
More recalls
Recall: Playtex Hip Hammock infant carriers
Recall: Doodlebutt Jumbo BeadZ and Magic Growing Fruity Fun Toys
Recall: IKEA SMILA-series children's wall lamp
Image credit: USCPSC