Baby Carriers Recalled For Fall Hazard
Playtex Hip Hammock infant carriers are being recalled due to a serious fall hazard. Find out if your baby carrier is involved.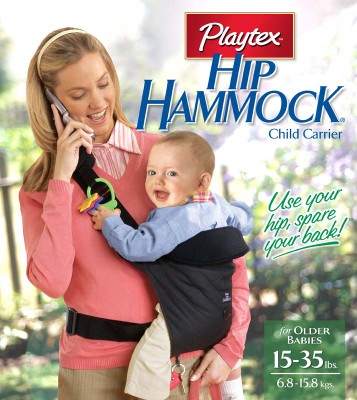 Nearly 350,000 Playtex Hip Hammock infant carriers in the U.S. and Canada have been recalled due to a serious fall hazard.
Product Description: This recall focuses on Playtex Hip Hammock infant carriers that were designed to strap a baby, from 15 to 35 pounds, against an adult's body at the hip. It is made of a soft, quilted suede or ultra-suede material in either black or navy. The seat includes straps that wrap around an adult's hips and shoulder. "Playtex Hip Hammock" is printed on a label that is sewn onto the front of the carrier, and the model number appears on the inside label under instructions for use. All models are being recalled: 05300, 05301, 05302, 05306, 05307 and 05308.
Where/when it was sold: These recalled baby carriers were sold at Burlington Coat Factory, Target and Walmart, and also at juvenile product, baby and discount stores nationwide and online at Amazon.com from June 2004 through December 2008 and January 2010 in Canada for about $40 for the basic model and $60 for the deluxe model.
Reason for recall: The buckles on the waist and shoulder straps can crack or break. Playtex has received 87 reports of the buckles breaking, which includes two injuries — one of which required emergency room treatment.
What you need to do: Consumers should stop using this carrier and contact Playtex for instructions on how to return the product for a full refund.
Company information: You can contact Playtex at (800) 522-8230 from 8 a.m. to 6 p.m. ET Monday through Friday, or you can contact them online at www.playtexproducts.com and click on "Recall" for more information.
More recalls
Recall: Doodlebutt Jumbo BeadZ and Magic Growing Fruity Fun Toys
Recall: IKEA SMILA-series children's wall lamp
Recall: Manhattan Toy Quixel baby rattle
Image credit: USCPSC