Mini Post-Baby Workouts You Don't Need The Gym For
When you become a new mom, the last thing you want to do is leave baby in a gym daycare so you can hit the treadmill. But with new motherhood comes a lot of activity that helps you shed weight naturally.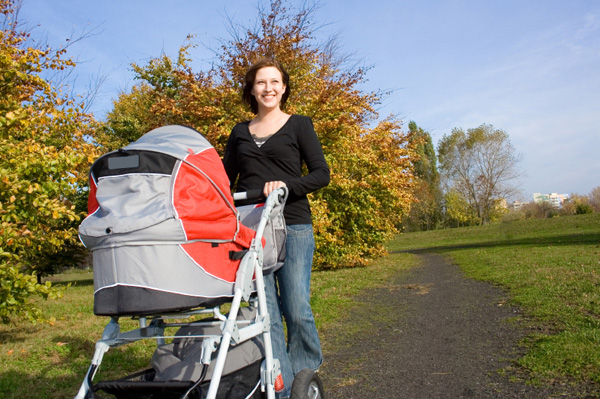 Lifting, carrying and holding baby
Your bundle of joy is also a ten-pound little dumbbell, helping you to sculpt your arms into great shape. Beyond carrying your baby, toting her baby seat and lugging the stroller in and out of your car gives your arms a workout too. While we're at it, pushing that stroller around the neighborhood also helps to tone your arms, and most babies love motion so take advantage of long stroller walks to help whip your whole body back into shape while lulling baby down for a nap.
Rocking baby
Instead of sitting in a rocking chair or glider to soothe baby, bounce baby gently in your arms while doing mini squats or pliés to tone up your legs.
Baby yoga
Instead of heading to a yoga studio, incorporate baby into your yoga fitness plan with a mom and baby postnatal yoga DVD that you can do on your time. Introduce baby to the yoga program when she's happiest, such as after a nap or a feeding and make sure the yoga session isn't too long. Aim for about a 30-minute program to ensure success. If baby gets fussy partway through, stop and try again later or another day but don't give up on the idea of working out with baby!
Breastfeeding
Okay, breastfeeding isn't exactly a workout. But some women swear that breastfeeding helped them shed some serious poundage. The main thing to remember is that you can continue to eat an extra 300 calories per day while you're breastfeeding. Just make sure those calories are coming from healthy and nutritious foods that benefit you and baby.
Get the 'ok' from your doctor
Don't forget to check with your doctor before doing any new workout program, especially after you welcome baby. Most doctors will say you can return to normal activity six to eight weeks after giving birth but just as every woman's birth story is unique, so is her recovery time.
Don't stress over the scale
It's important not to put pressure on yourself to lose your baby weight or get back to your pre-baby body within a certain amount of time. Allow yourself time to recover from delivery and simply enjoy being with your new baby without stressing about a number on a scale.
More post-baby workouts
Find a fitness routine after baby
Work out with baby
Lose your baby weight in 2013