#XMAS Jammies
Inspired by the viral video #Xmas Jammies to get a matching set for your crew? We've rounded up the best family Christmas pajamas to choose from.
Matching Christmas pajamas are sure to be a hit this year, thanks in part to the wildly popular #Xmas Jammies video.
The viral video called Christmas Jammies is one family's attempt at giving a modern, techy twist to the old idea of an annual family newsletter.
In the video, the Holderness family of Raleigh, NC rocks matching family Christmas pajamas as they rap their 2013 news to the tune of Will Smith's "Miami."
The video serves more than just announcing family news though. It's a creative stunt to launch the family's new marketing and media company, Greenroom Communications (and it worked pretty darn well).
Since #Xmas Jammies is making it's rounds on the internet and morning shows, we suspect to see a surge in people scooping up family Christmas pajamas for the holidays.
Here are a few family pajama options that will fit everyone from baby to mom and dad.
1. Santa love
Proclaim your family's love of the jolly old man with these coordinating I Love Santa pj's.
(chasing-fireflies.com)
2. Playing Santa
Dress the part of Saint Nick with santa suit pj's as visions of sugarplums dance through your head.
(chasing-fireflies.com)
3. Jammies for Fido
These red plaid family pajamas even come with a coordinating pair for your pup!
(thecompanystore.com)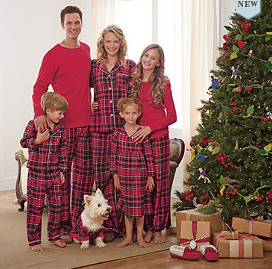 4. Doubles as long underwear
These matching red dropseat pajamas for the whole family have the option of getting embroidered with names. They also can be worn under snow clothes for extra warmth.
(Pajamagram.com)
5. Comfy jammies
For a more relaxed look, these mix-and-match plaid family pajamas can be worn as a set or broken up as separates. (Pajamagram.com)
6. Candy cane stripes
These classic button-up flannel pj's come in traditional holiday colors with alternating stripes.
(chasing-fireflies.com)
7. State your awesomeness
Any family that's willing to dress up in matching pajamas is pretty cool so say it out loud with these red, black and plaid family pajamas. (Amazon.com)
More holiday ideas
Seasonal fun with baby
Holiday shopping guide: Playing with baby
Fun ways to announce your pregnancy over the holidays