Date Night, New Parent Style
A new baby can take precedence over just about everything else in life. But you don't have to sacrifice your relationship even though you're not yet ready to leave baby with a sitter. Instead stay at home and bond with your partner.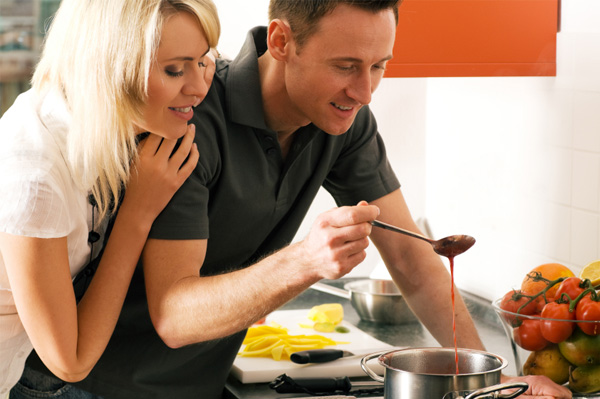 Cook together
Put baby in the bassinet or the swing while you and your husband get into the kitchen and cook a romantic meal together. If you time it right, you can put baby to bed before it's time to eat so you and your man can sit down and enjoy the fruits of your labors without any interruptions.
Take a stroll around the neighborhood
Strap baby into his stroller or carrier and take a walk around the block while hand in hand with your partner. Let baby take in the sights (especially this time of year when many homes are lit up with holiday decor) while you and your man catch up on casual conversation.
Cheers yourselves!
After baby goes down for a long evening nap or for the night (fingers crossed!) open a bottle of champagne and cheers yourselves on becoming new parents! Take this time to reconnect and bond over the crazy/funny/amazing ways life has changed since you welcomed your newest family member not so long ago.
Watch a movie
Light a fire in the fireplace, bring out the blankets, pop some corn and cuddle up with your partner for movie night at home. Even if you end up falling asleep in each others' arms half way through the flick out of sheer new-parent exhaustion, you can't replicate this kind of movie night in a crowded theater!
Couples' night
If you're feeling disconnected from your group of friends since the onset of parenthood, invite a few guests over for a casual couples' night. Invite your other friends that are parents to bring along their new babies, too. They may welcome the chance to get out of the house (without leaving baby behind, either) and reconnect with other adults, too!
More on new parenthood
Why you shouldn't aim for perfect parenting
Learning patience with new parenthood
5 New mom positive affirmations