Products Pose A Serious Ingestion Hazard
The soft, colorful balls and fruit shapes from Doodlebutt have been recalled. If you have any products that grow bigger when place in water, this recall may apply to you.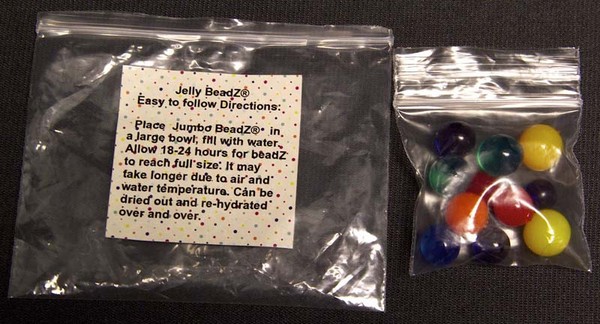 Nearly 1,500 units from Doodlebutt have been recalled due to a serious ingestion hazard. These water-absorbing polymer toys can look like candy but can cause major damage to a small child if ingested.
Product Description: This recall focuses on Jelly BeadZ Jumbo BeadZ and Magic Growing Fruity Fun Toys from Doodlebutt. They can absorb from 300 to 500 times their own weight and can grow up to eight times their size.
The Jumbo BeadZ are marble-sized balls. They were sold in a package that contained three separate, self-sealing bags, each holding eight to 12 balls. They came in clear, blue, red, orange, yellow, green and purple. The front of the bag was marked "Jelly BeadZ," "Easy to follow directions" and included instructions.
The Magic Growing Fruity Fun Toys came in a variety of fruit shapes: Apples, bananas, butterflies, cherries, grapes, pineapples, roses and strawberries. They were sold in a resealable bag that contained seven shapes. The bag it came in was marked, "For 'Kidz' of All Ages," "Jelly BeadZ," "Bouncy and Beautiful," "Colorfast," "Non Toxic," "Safe for the Environment."
Where/when it was sold: These recalled toys were sold through Amazon.com from February 2012 through September 2013 for about $9.
Reason for recall: There have been no injuries reported, but they have the potential to be ingested and swell up, which can cause intestinal blockage — this can be life-threatening. A similar product was swallowed by an 8-month-old baby and had to be surgically removed, and there were two incidents with similar products outside of the U.S., one of which resulted in death.
What you need to do: Consumers should immediately remove these toys from children and contact Doodlebutt for a full refund.
Company information: You can contact Doodlebutt collect at (239) 313-9779 from 9 a.m. to 5 p.m. ET Monday through Friday or via e-mail whitmana@live.com.
More recalls
Recall: IKEA SMILA-series children's wall lamp
Recall: Manhattan Toy Quixel baby rattle
Recall: Falls Creek Baby Infant Sandals
Image credit: USCPSC