Santa Baby
Taking baby to visit Santa for the first time? Here are a few handy hints to help make it a fun experience.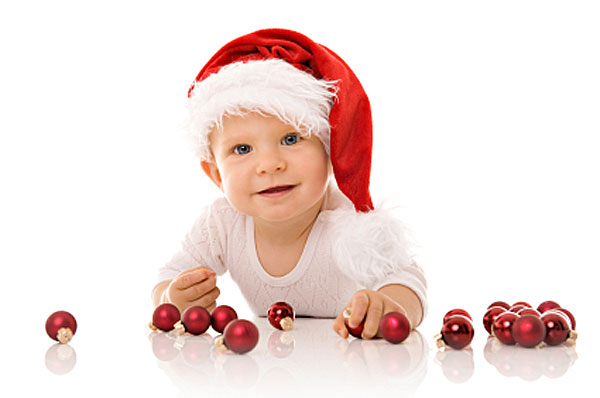 Taking baby to see Santa can be an interesting holiday experience. I recently took my 6-month-old to go see Santa for a photo opp and, well, we ended up with a bunch of sad baby face pictures and one awkward family photo.
It was still a fun experience nonetheless.
After swapping stories with other mom friends and comparing notes, I put together a game-plan for future Santa visits.
Here are a few tips for taking baby to see the jolly bearded guy in the red suit.
Consider the age of your little elf
Newborns are easy street when it comes to Santa pictures because they can (and do) sleep through everything. You might want to consider keeping a little distance between Santa and your little bean though since he sees multiple germ-harboring kids throughout the day.
Babies that are slightly older and are going through a separation anxiety stage might have a rougher time looking at the big ol' scary dude. It might help to ease into the picture by doing a family shot first where you're holding your baby before handing her over to Father Christmas.
Go during "happy hour"
If possible, try to schedule your visit during a time when your baby tends to be happy and alert. Taking him to see Santa when it's close to nap time is just asking for trouble. Many babies tend to be most easy going earlier in the day, so try to shoot over to see Santa after your little one wakes up from a morning nap. Bonus: You might be able to avoid the mad mall rush hours.
Plan what to wear in advance
Pick out what you want your baby to wear the night before and consider packing a backup outfit just in case. Nothing's worse than waiting in line for an hour to see the big man only to have a diaper blowout derail your plans. Even if you aren't planning to be in the pictures, throw on some makeup and a cute outfit just in case you need to jump in the shot to keep baby happy.
Take a toy
Pack a toy that you can use to help keep baby's attention during picture time -- one that can be waved around the photographer so baby looks at the camera. If your child has a lovey, bring it along in case it offers some additional comfort.
Look for a coupon code
Santa pictures can be expensive and you might be able to save a few bucks by checking online for deals. I was able to save some cash on our Santa photos by pre-purchasing a packet online that provided a combination of prints and digital photos.
Ask around to find the best Santa
There are a ton of Santas out there. Some are good. Some aren't. Talk to moms in your area to find out which ones made the naughty list and who can provide you with the ultimate first Christmas experience.
Be jolly
Most importantly, have fun with it! Let's face it, baby won't remember his first Santa visit, but you will. Babies pick up on parent's stress so take a chill pill and enjoy the experience. Even if you only end up with a crying baby picture, it will still be a memorable holiday experience.
More tips for baby's first Christmas
Present planning for a December baby
Christmas tree safety for baby
Handling the holidays with a new baby