Colorful Rattles Pose A Choking Hazard
Manhattan Toy has recalled their Quixel baby rattle because some parts can break off and become choking hazards for babies. Do you have one? If so, check out this recall.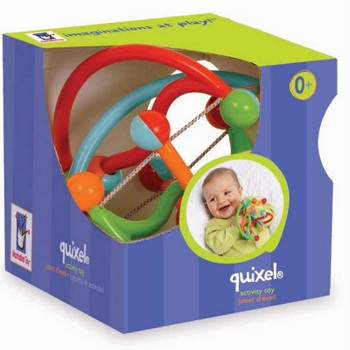 Over 12,000 baby rattles from Manhattan Toy have been recalled because the plastic arches on the toy can break, thereby posing a choking hazard for little ones.
Product Description: This recall focuses on the Quixel baby rattle from Manhattan Toy. The rattles have four brightly-colored arches (red, orange, green and blue) with sliding beads on each arch. They are held together with a single strand of red, white and blue elastic. The toy measures around 5" in diameter and "Manhattan Toy" is printed on one of the arches.
Where/when it was sold: These recalled rattles were sold at specialty toy and baby stores in the U.S. as well as Canada, and they were also sold online at www.manhattantoy.com from September 2011 through October 2013 for about $15.
Reason for recall: The colorful plastic arches can break, which creates a small part that is a choking hazard for small children. Manhattan Group has received four reports of breakage, but no incidents of injury have been reported.
What you need to do: Consumers should immediately remove these rattles from their children and return them to the stores where they were purchased for a full refund.
Company information: You can contact Manhattan Group at (800) 541-1345 from 8 a.m. to 5 p.m. CT Monday through Friday, or you can look online at www.manhattantoy.com and click on RECALLS at the bottom of the home page for more information.
More recalls
Recall: Falls Creek Baby Infant Sandals
Recall: Angelcare Movement and Sound Baby Monitors
Recall: Dream On Me Lullaby Cradle Glider
Image credit: USCPSC