Bust Out The Bubbles!
Bath time with baby can be one of the funnest activities you do together. Here are 6 tips to make sure baby's bath goes smoothly so you can have a blast blowing bubbles together.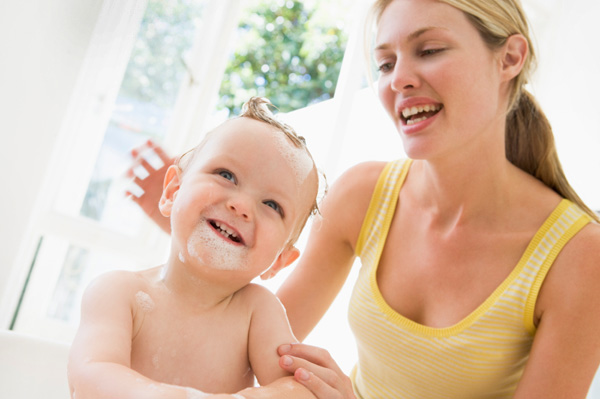 1. Think outside the tub
You don't necessarily need one of those fancy little bathtubs to have a fun bath experience. A kitchen sink will do just fine when your baby is little and will help save your back from being scrunched over. For the first two months we gave our daughter her baths, we used a big mixing bowl in the sink and she loved it!
Once babies can sit up on their own, they might like transitioning to a big bathtub so there's room to splash around. A rubber bathmat can help keep their slippery little bottoms from sliding around.
2. Keep your gear near
Babies should be supervised at all times during baths. To make it easier on yourself, keep all the necessary bath time essentials close at hand. There are bath organizers to help contain all of baby's bath time gear, but if you don't want baby toys and bubble baths taking over your tub, a plastic bin with ventilation holes can help contain the clutter so you can neatly put everything away in a cabinet once bath time is over.
3. Splish and splash
One of the best parts about bath time is the fun opportunity it provides to play with your child. While bath toys are nice to have around, you can have good old fashion fun by just splashing around the bathwater and blowing bubble bath bubbles. Simple plastic cups and plastic kitchen utensils double as fun bath toys.
4. Sing some tunes
The acoustics in bathrooms provide the perfect opportunity to practice singing new tunes together. My six-month-old loves mimicking singing and bath time gives her a chance to stretch her vocal chords.
5. Temperature control
If you were hanging out in just your birthday suit, chances are you'd want to be warm and cozy. Have the same considerations in mind for your baby and make sure the room temperature isn't too cold. Before putting baby in the bath, always check to make sure the water is at a comfortable level. To prevent scalding, experts recommend having your water heater set to below 120 degrees fahrenheit.
6. Bath time bonding
If you're a breastfeeding mom, consider letting Dad take the rein on bath time duties and let it be his regular thing that he does with your baby. Bath time rituals can help facilitate bonding time for dads – and gives mom a short break. My husband loves giving our daughter baths and it's his special time to spend with her.
If you are both at the office all day and are looking for more ways to fit in quality time together, consider making bath time a family affair. Both parents can play with baby while also using the time to reconnect with each other.
More about baby's bath
Teach baby water fun from bath #1
Do newborns need a regular bath?
Mom 101: Mildew-free bath toys