Happy Holidays, Baby!
If this month marks baby's first holiday season, get ready for some fun! Treat baby — and yourself! — to some holiday firsts.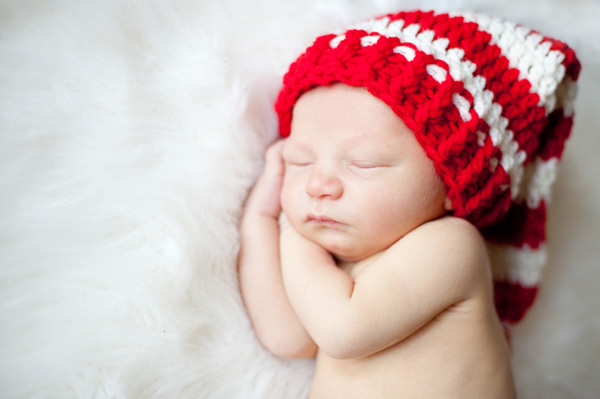 First picture with Santa
Regardless of baby's reaction (confusion, smiles, giggles and, yes, even cries of momentary terror) when placed into the Big Guy's arms her first picture with Santa will make for an adorable Christmas card for your loved ones and an incredible keepsake for yourself.
Play in the snow
If your baby is old enough to enjoy picking things up, dress him in some warm clothes and let him play in the snow! Make sure he has waterproof mittens designed for the snow and let him dig in the snow and make snowballs or a snowman. After his romp in the elements, give him a warm, soothing bath and cuddle up with him in some cozy blankets by the fireplace.
Christmas lights
My son was less than six months old for his first Christmas and he loved soothing car rides to lull him to sleep. So my husband and I took great advantage of this and drove around for countless hours that first Christmas season looking at all our neighborhood light displays. If you're feeling really adventurous, bundle baby up and take her to a light parade or display at a local zoo or botanical gardens. Don't forget her hat and mittens!
Decorate for the season
Put baby in his exersaucer in a spot that allows for viewing while you and your partner string up holiday lights or decorate your Christmas tree. Put on holiday music and involve baby in this joyous time by bouncing or rocking him to the beats.
Create a tradition
The holiday season is a wonderful time to create some family traditions that you can continue on with throughout your baby's life. Start reading him Christmas stories before bedtime or hold him while you light the candles on the menorah. Regardless of your beliefs, create some traditions that suit your family during this season.
More on holidays with baby
Keep baby on schedule during the holidays
8 Gift ideas for baby's first Hanukkah
18 Ways to babyproof your Christmas decorations