Strangulation Hazard,
Deaths Reported
The Angekcare Movement and Sound Baby Monitor has been recalled. If you have one, you'll want to see what to do next.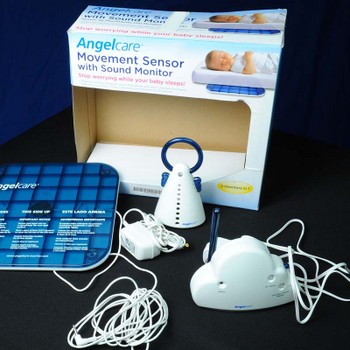 The U.S. CPSC, in conjunction with Angelcare Monitors Inc., has issued a voluntary recall involving over 600,000 Angelcare Movement and Sound Baby Monitors.
Product Description: This recall focuses on the Movement and Sound Monitor manufactured by Angelcare. This baby monitor includes a sensor pad caregivers place inside the crib, under the mattress, to monitor movement of the baby. It also has an electrical cord that is about 11 feet long that is permanently connected from the sensor pad to the nursery monitor unit.
The recall involves all versions of Angelcare sensor monitors that were manufactured between 1999 and 2013. This includes model numbers AC1100, AC201, AC300, AC401 AC601 and 49255 that did not include rigid cord covers. You can find the model number on the back of the nursery monitor unit.
Where/when it was sold: These recalled monitors were sold at Babies R Us/Toys R Us, Burlington Coat Factory, Meijer, Sears, Walmart, Amazon.com, Target.com, Overstock.com, and nearly 70 specialty stores, from October 1999 through September 2013 for about $100 to $300.
Reason for recall: The cord attached to the sensor pad is placed under the crib mattress, which poses a strangulation risk if the child pulls the cord into the crib and it becomes wrapped around the neck. The U.S. CPSC has received reports of two deaths related to this product — a 13-month-old girl and an 8-month-old girl. There have been two additional reports of entrapment due to the cords being pulled into the crib by children, but those incidents didn't result in fatalities.
What you need to do: Consumers should make sure the cords are placed out of reach and then contact Angelcare to order a free repair kit.
Company information: You can contact Angelcare toll-free at (855)355-2643 between 8 a.m. and 8 p.m. ET Monday through Friday or visit their website at www.angelcarebaby.com to order the free repair kit.
More recalls
Recall: Dream On Me Lullaby Cradle Glider
Recall: BreathableBaby BreathableSack wearable blanket
Recall: Infinitoy Softimals building sets
Image credit: USCPSC