Get Your Own "Momtourage"
Mommy guilt is something every new mom experiences. We spoke with International Nanny of the Year and childcare expert Michelle LaRowe and got her tips for handling mom stress.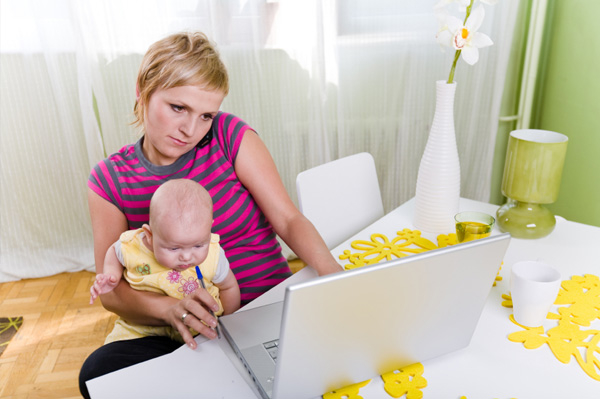 "Mom guilt is 'mommyversal,'" says Michelle LaRowe, childcare expert and 2004 International Nanny Association Nanny of the Year. "Whether you are a work-at-home parent, a stay-at-home parent, or a full-time work away parent, mommy guilt is universal."
What causes mom guilt?
"Today's moms have a lot of pressures and stressors on them to do things in a certain way," LaRowe explains.
She says a recent survey just showed that of moms who are returning to the workforce, 42% of them feel stressors related to feeding their babies. "Given that 75% of moms are returning to the workforce after their having their babies, that's a lot of moms walking around with a lot of stress and guilt." 
Why you need a "momtourage"
To help ease some of the stress new moms feel and lighten the load, LaRowe says to get a "momtourage." 
What's a momtourage?
"A momtourage is the people, places and things [moms] can pull into their lives that support their parenting choices, give them more time in their day and money in their pocket," LaRowe explains. "Whether that's outsourcing their dog walking, ordering their groceries online at night or making smart saving choices." 
Be a smart consumer
LaRowe says one way for parents to save some money is to research products and switch to store brand diapers or infant formula if needed.
"Over 80% of moms surveyed said they would only or mostly feed their babies national brand-name formulas. Of those moms, a significant portion didn't even know that the FDA regulates formulas."
So whether you choose a fancy brand name or a store generic, "they all meet the same FDA requirements, they're nutritionally comparable and you can save 50%, or $600 dollars a year, by opting for store brand formulas which gives parents more money in their pockets to invest in things like childcare."  (Note: survey results provided by Harris Interactive.)
LaRowe says storebrandformula.com has more tips on how to save on baby items like formula and offers coupons too.
Adjust expectations
Having a kid can rock your world and drastically change your lifestyle. The key to managing all the changes is to adjust your expectations.
"I think parents really need to evaluate their situations. They need to determine what the best choices are for their family and put off the expectations others put onto them."
Parents really need to re-evaluate their own expectations of themselves too, LaRowe says. "For example, parents need to find more time for themselves in the day so they can meet their own needs and they're better able to care for their children."
Even waking up just 20 minutes early to have a cup of coffee by themselves or reading their favorite book at night before they go to sleep can help parents take better care of themselves so they're better equipped at taking care of their children, LaRowe says.
Find quality childcare…
…and be confident in your choice, LaRowe advises.
"If parents aren't 100% sure that they've chosen the right caregiver for their family and that their children are well cared for, they're not going to be productive in the workplace." 
She says parents should get to know who will be caring for their kids and run background checks on them. For more information on choosing a childcare provider she recommends visiting enannysource.com.
About Michelle LaRowe
Michelle LaRowe is the 2004 International Nanny Association Nanny of the Year. A career nanny specializing in caring for twins, Michelle has over a decade of professional childcare experience. Michelle is an active member of the nanny community and has served on the board of directors and as vice president of the International Nanny Association. Michelle is the author of the Nanny to the Rescue! parenting series, Working Mom's 411 and A Mom's Ultimate Book of Lists. She and her husband Jeff, reside on Cape Cod with their daughter Abigail and their son Luke.
More parenting tips
Tips to babyproof your marriage
Is getting a puppy good practice for baby?
A review of Ready, Set, Baby!, a parenting book for the i-Pad generation